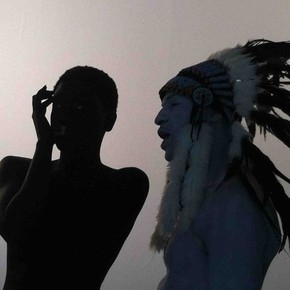 Individualism is key to the up and coming personality that is Damon Daye. The Connecticut native recently released an eloquently executed visual to a song of his called 'Move That Body.' Welcomed by the mass media positively, the video went on to secure placements at various online channels and some major sites including here at Skope.
We managed to catch up with Damon and pick his brain a bit about just what inspired him to come up with the concept for his video. Sharing his knowledge and displaying a true appreciation for the visual arts, Damon was forthcoming with his answers and allowed us to look through his eyes for a short while.
With the EP that boasts the 'Move That Body' single due for release this Spring, the potential that is displayed by this 'multi-faceted' entertainer is limitless.
Your recently released video, Move That Body was what brought you to our attention here at Skope. How long did it take you to come up with that concept?
Well the concept came about quite briefly and naturally, and didn't take long at all to conceive. How I'm depicted in the video is how I see myself, however it took me a good while to write the song as I the words didn't come to me until after months of listening to the production.
"Move That Body" Video
http://youtu.be/I2mK_M0kVLM
"Move That Body" Audio
https://soundcloud.com/damondaye/move-that-body
Can you break down your thought process in the story behind the video as watching it you do get the impression there is an underlying story?
yes there are a few different meanings. Firstly I was in a dream state when I envisioned myself as a Native American warrior and that's where the initial depiction originated. I'm shown in the video as a warrior chief if you will and the woman is my muse my ease at the end of a long day of war… she is the only one that can penetrate my emotions by the way she "moves her body". In the club scene the same is for her. She seems unmoved by her surroundings. She feels as if she doesn't belong until we make a connection… I wanted to tell a somewhat non-traditional story of male female attraction.   I also wanted to show the correlation of America, Native Americans and African Americans thus the images of the American flag.
How important is the visual aspect to you when it comes to establishing yourself in the music industry?
Visuals are extremely important. Visuals allow an artist to be a lot more creative than the actual sound recording. Music in film is an important backdrop to a much bigger picture   … they say an image is worth a thousand words, and it's absolutely true.   I really liked "move that body" when I recorded the record but bringing the visual to light was a lot more gratifying. The director and I wanted to do something that was fresh, different, and passionate. We wanted to do something that would fill a void for creative visuals in music videos.
If you were able to work with any director whom would you pick?
I really like Anthony Mandler. He has an awesome body of work. His direction on Lana Del Rey's song ride really got my attention. The cinematography, mood, and feel brought you to the place and time of the song and right into the head of the artist…
Beyond those of your own, what are some of your favorite videos and why?
Well I like "Ride" by Lana for all the reasons mentioned before. I liked Kanye West's short film/music video for "Runaway" for his My Beautiful Dark Twisted Fantasy album. It was bold and very different from anything out at the time or anything he had done before. The story line was really brilliant and absolutely creative.  
Though its not a recent video, Busta Rhymes video for "Put Your Hands Where My Eyes Can See" was just crazy to me. I remember just saying 'WTF is this?' Everything about it was just dope to me. It was the first time I seen such fearlessness in a music video.
John Legend's "Ordinary People" video was dope because of how simple it was but still managed to tell his story clearly. I could probably go on for a while, I mean, I still watch Nirvana videos (Laughs)
This song will be featured on your new EP, which I believe is due in the Spring, can you give us a bit more information on that project?
The title of that work is "A Daye Is Forever". Meaning that all we ever have is right now, the present moment. It's about how the decision's you make in life have a lasting effect. Your actions, thoughts, deeds etc. can affect you or someone else for a lifetime. The project will be a melting pot of all my musical influences. Rap, R&B, Soul, Rock, Dance, Blues, Jazz, etc… do I have the greatest voice? Probably not, but its my voice. Do I write the greatest songs maybe not, but they are my words… " A Daye Is Forever" is saying today is mine and I'm going to own it… I'm going to do and say what I feel, I'm going to live my truth despite what others may think about it. I'm saying you have to live your life for your forever.
Was music always your preferred choice of career?
Actually I thought id be a professional football player. Running back. I was hit by a car as a teen and severely broke my leg. So that ended that dream. Took me over two years to fully recover. It was fate though music has become such an integral part of my life.
What and whom do you draw inspiration from?
Wow… Life, and everything in it. The good, the bad, the ugly, pain joy, the need to not let fear cripple me, Love, family, the curves of a a woman, world affairs… I draw inspiration from everything really.
If you had to pinpoint one thing that helps you in establishing yourself as someone people need to check out, what would that be and why?
I'd say the creativity of my approach is quite unconventional. People feel a need to do what they think people will like, that's ok to a certain extent, you want your content to be relative but you have to tell your story as honestly as you can without regard of opinions and the fear of opinions.
How hard is it to get attention these days for the independent act and does location come into it as much as it once did?
Well the information age makes it very easy to produce a thing, but if you don't have people that believe in you and are passionate about your passion then it can be really difficult to reach as many people as you'd like to…. The Music scene in my hometown of Connecticut is almost non-existent in comparison to the bigger cities that surround it, like New York and Boston.   So without connection, drive you may find your self just being a local artist… which may be just fine for some
The future for Damon Daye?
More music, more videos, preparing my stage show. I'm building my house of creativity brick by brick. Hopefully it will be big enough to house a million people. I wouldn't mind writing a song with cold play, and recording a hook for Jay either.