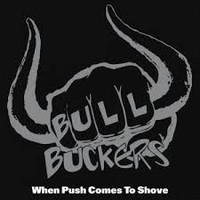 The island groove sounds of Reggae, Dancehall and Dub meet the American born sounds of Ska, Jazz brass and Big Band on The Bullbuckers debut album, When Push Comes To Shove. The album illustrates a diversity of instrumentation, style and songwriting in what plays out as simply fun, dancey, groovy tracks.
Listen:
http://open.spotify.com/artist/2frDbHyTof4YAedLRCF2qS
"Otis" opens the album with an homage to "man's best friend." The brass takes the opening spotlight with Big Band honks, while the staccato guitar work at the undercurrent moves the track along with Ska-style urgency. As the track bops along, it lays the foundation punk-tinged, Caribbean ethos of the album. "Gimme Little Sign" continues the Ska-influenced guitar work with horn fills through the verses and swagger melody through the chorus. Soaring backing keys bolster the melody on this one. "Time" opens with more Jazzy swagger from the horn section in what is a down tempo groove tune. The vocals channel the Squirrel Nut Zippers and stand at the foreground of the track with the instrumentation taking a slight retreat through the verses only to reappear in force at the chorus. The highpoint is the soaring muted trumpet solo at the midpoint (This track got the band placed in the John Lennon Songwriting Contest 2012). News feed soundbites share tandem with horn section blasts and a racing drumbeat on "Falcon." This is another example of time changes peaks and valleys through the body of the track, while the instrumentation remains technically tight.
Those under the assumption that Reggae-inspired music has seen its apex, will find themselves quite wrong after a listen to The Bullbuckers. With a clear understanding of the genres they utilize, tight instrumentation and clever, approachable lyrical matter; they are carrying the torch for upbeat, fun, island-inspired music.
http://www.cdbaby.com/cd/bullbuckers              
by Christopher West – cwestlaz@gmail.com
Rating: 3.5/5