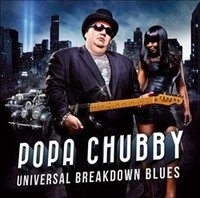 This is the new release by the bluesman that has been playing the club circuit and cutting records since 1994.   He grew up listening to 70's rock, and his Hendrix, Clapton, Beck, SRV, and J. Page influences can be heard in his interpretation of the blues.   PC has raised the blues bar, and incorporates his own variety tasty licks similar to his contemporary Joe Bonamassa.   I believe Joe would dig this release.   Although the influences are felt and heard, PC interjects just enough to give some homage, but gives the tunes their own lives when he weaves in his own bag of fret board tricks.  
I Don't Want Nobody has that SRV vibe, but deviates in the riff department.   The Finger Bangin' Boogie blends some familiar early Stones and ZZ Top elements, with some good slide playing.   His extended treatment of the classic Somewhere Over The Rainbow takes Jeff Beck's version to a new level (actually a few new levels).   PC tastefully adds some classical and rock elements to his string section sounding volume swells.   Note: One of my favorite instrumental takes ever!   69 Dollars is a neat smoky club-sounding cut.   The classic Rock Me Baby is delivered as if Jimi and SRV both had their input into it, a little voodoo, a little Crossfire.   Universal Breakdown Blues has a Foxy Lady flavor, but then goes another direction.   I Ain't Givin' Up is a nice slow heartfelt ballad in the true sense, the extreme opposite of the other offerings.   The People's Blues is a nice slow bluesy tune with quick riffs and runs, delivered in true B.B. King fashion.  
I had been aware of PC, but somehow have never heard him.   When I got this release, I thought, yet another boring blues re-hash effort (although it came from a publicist I respect).   Once I started listening, I discovered that I was both wrong, and actually smiling.   The carefully thought out licks, tone, the vocals all meshed, by far one of the best blues releases I've heard in a long time.   The B3 and piano are used sparingly and effectively.   This is a really fun listen and a departure from the banal blues monotony.   Somewhere Over The Rainbow itself is worth the price of the CD!   PC casually plays the riffs most of us wish we could master!  
By RM Engelman
http://popachubby.wix.com/popachubby
Rating: 4/5