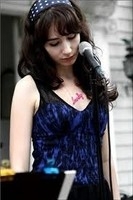 Full-blown eclectic is an apt descriptor for Elisa Lovelie's new EP, Undertow. Genres, styles and instrumentation run the musical gamut through the five tracks, in what she calls "folk rock." Leaning heavily on classical vocal training, poignant lyrical matter and a steady rock foundation, the album plays out in mash-up style with Blues guitar, Latin percussion and Rock riff work. Her exposure to myriad influences shine through on the ethos of the album and through stylistic differences of the track.
http://www.elisalovelie.com/listen
"Bad Boy Blues" plays out true to heart on what is a raucous romp of Blues guitar work. The clear focal point of the track rests with Lovelie's lush vocal delivery and drives the track over clever picking notes at the midpoint. Elements of Country instrumentation add to the fold with backing string work fills. "Black And Blue" is a mid-tempo rocker track with the emphasis on the "folksy" side of things. Again, the vocals are the driving force behind the track with the instrumentation and backing vocals bolstering their delivery. "Fire And Icicles" is a demure track opening to tandem acoustic/electric guitar work. The slight verse work surrenders to the urgency of the chorus melding all the instrumentation into one solid foundation just behind the equally urgent vocals. "I Don't Need You" opens to chug electric notes and perhaps belies Lovelie's Pat Benatar influence most. This one is reminiscent of an early 80s rock track a la Joan Jett or Lita Ford. The Heavy Rock ethos continues through to the vocal effects of the midpoint bridge. "Try" features acoustic picking at the intro before Lovelie takes over with the vocal delivery. Weepy strings play fill between the verses and the lyrical matter is that of the efforts of a spurned lover. Percussion is missing from this one relying on the acoustic and strings to carry the harmony.
Lovelie's obvious strength lies in her vocal prowess and the teamwork songwriting with her mother. The instrumentation does a nice job allowing her voice to shine and playing a role of carrying the tune without outshining the vocal focus. The numerous facets from numerous genres also add an eclectic flare to the songs and allow them to transcend genre pigeonholing. Fans of a strong female vocal presence… this one's for you.      
by Christopher West – cwestlaz@gmail.com
I give this 3 Skopes.