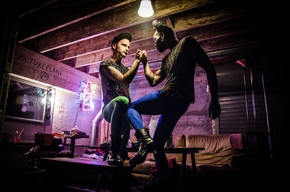 Signed to Oakland based Le Heat Records, Double Duchess are vocalist and performance artist Krylon Superstar and emcee and producer davO. Together the duo deliver a raw but campy electronic sound unlike anything else. Krylon and davO met in 2010 and instantly began creating music inspired by their love for boys, being sassy, and the queer community of San Francisco.
[youtube awPpHIoCC3E]
Krylon's early years of vogueing in NYC, dancing as a club kid, and his international performance art pieces are all part of their live performances and visual presence. davO's earlier years of fronting a live hip-hop/funk/punk band, mixed with his musical production, songwriting, and DJ experiences creates the sonic experience to compliment the visuals of this duo. Double Duchess influences are Baltimore club, booty breaks, ballroom house, all wrapped up in couture fashion!