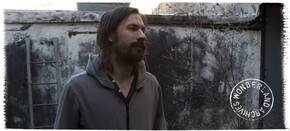 Wonderland Archives is thrilled to announce the May 7th release of Bitter Fruit, the debut full-length album by Ann Pragg, featuring new single "Demolition Dust". Ann Pragg is the alter ego of Gainesville, Florida's Matt Radick (Holopaw, Blood River). He blends the intimacy of Nick Drake, along with the brooding of Smog or Richard Buckner, with a pop sensibility.
New Single "Demolition Dust":
Amassing a vault of home recordings over the years, Radick has mined this archive to create Bitter Fruit, a stunning debut. Recorded on cassette 8 track, the album builds upon the intimacy and warmth found on his early recordings and gives them new life, layering hushed vocal harmonies, swells of fuzz, and crystalline synths. Lyrically cryptic, Radick has a vocabulary all his own. His songs drift through dark territory, though often come wrapped and packaged as jangly pop. From the somber beauty of 'First Light' to the expansive darkness of 'Demolition Dust,' each song on Bitter Fruit is rich, its grace unfolding in the details.