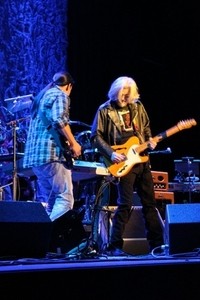 The smaller hall venue sold out in a flash.   As hoped, the guys did the Greatest Hits list, which in the time allotted they still couldn't cover everything.   A major statement of the group's accomplishments.   Both guys stay busy with their solo work, John recently promoting his CD Mississippi Mile, and Daryl with the great original concept show Live At Daryl's House.  
The best selling rock duo ever combined with a six piece backup band including H&O vets "Mr. Casual" Charlie DeChant on sax, flute, vocals and keys, and Paul Pesco on guitars and vocals.   Although Daryl does most of the lead vocals, John (notably one of the best backup singers in the biz) showed that he is also a great soulful singer when they did Las Vegas Turnaround.   Daryl traded time on guitar and keys, and John and Paul shared the leads on various songs, with John also trading guitar licks with Charlie on sax.
The evening started out with Out of Touch, followed by Family Man.   Other crowd favorites were of course Rich Girl, Maneater, You Make My Dreams Come True, and Out Of Touch.   The show was divided into one hour of songs, and another half hour of encores.   The highlight was definitely the extended funk version of I Can't Go For That featuring congas and Charlie's wailing sax throughout.  
The crowd was into it the minute they took the stage, mostly standing and dancing.   H&O are a class act, and bring it to the audience every time they take the stage.   A noteworthy thing is that they don't tour together constantly, making it a much-anticipated event when they do hit the road.   Bet you can't sit through a show without either singing along, or lip-synching a half-dozen or more songs!  
By R.M. Engelman