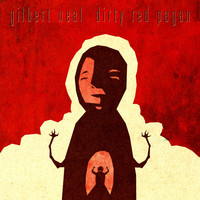 As a "very poor and directionless" youth, Gilbert Neal drifted whichever way the wind blew. As it happened, Fate took him to the musical vocation. Bass guitar was his specialty, and he plied his craft at various venues in his native Buffalo.
Now a resident of North Carolina, he has branched out to the six-string, the keyboard, and vocals — aside from the "occasional session musician," the man has gone entirely solo. His latest release is the provocatively titled Dirty Red Pagan, with which he is admittedly targeting the "dirty old man demographic" (a rather large potential audience).
In "Epiphany," Neal waxes musical about our impending brave new world: "So what will we do with the power of the future?" A jazz improv arrives about halfway through, providing an endearingly wild element.
[youtube spSmi84pSmY]
"Everything's a Steal" gets so funky I can't even tell what instrument is playing. Does it even matter? The song rocks! I feel like abandoning all grammar and just submitting to the beat of the scattering notes.  
On "Forgive Yourself," Neal shows a capable voice. Hadn't even paid attention to it yet; there was so much stimulation just from the instrumental component. The song's mantra of self-forgiveness is one that could resonate with many. As Patrick Bateman once said: even if you can't empathize with anyone else in the world, you can always empathize with yourself.
"Grind" is some dirty stuff, even without the lyrics. The riffs are just so pulsating and suggestive. "Now you can bring the sugar, and I can bring the cream." Methinks there's a naughty reference here. And the song's latter part is a prolonged climax of rock & roll concupiscence.
With "Remember Me That Way," Neal takes to the piano and attempts a magnum opus.
"Let's Get the Band Back Together" is a catchy title and an interesting concept for a song. Also worthy of mention is the fine background guitar work appearing sporadically.
"Water" has some pretty astute lyrics. It could stand alone as a piece metaphysical poetry.
Of course he has talent. But beyond that, Neal has a certain feral abandon. The man can get quite out of control, lost in his own world of funk and unpredictability.    
If he thinks only "dirty old men" would like this album, he sells himself short. People of any gender, age, and dirtiness could get into this stuff: https://itunes.apple.com/album/dirty-red-pagan/id587924341?v0=9988&ign-mpt=uo%3D1
Ray Cavanaugh – owleyesgatsby@yahoo.com