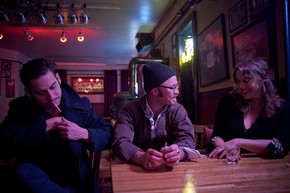 Hello to all around the globe, and welcome back. I do not know about you but that meteorite in Russia was unreal, looks like there are more dangers not only just on earth anymore. As many of you know, Rihanna is on a huge tour and will be in Boston in March. Her promo posters are her topless but hiding her nipples. It got me thinking why a beautiful and very talented woman needs to strip to sell tix. If that is part of the show, I may buy a ticket. My guests today will also be on a major tour but do not expect any pole dancing or strip teases. decker. is set to release a new album 'Slider' next week and head on tour March 1. They also have a passionate & romantic video for "Killing Me" out now. If that is not enough I do not know what more they can have going on. Join me as Brandon Decker talks all about the new album, what they miss back home while on tour, crooked politicians and much more!
Stoli: Where are we talking from today and are you ready for spring yet?
decker.: I am in my home in Sedona, AZ.   Always ready for spring and summer.   Those are my seasons. I like warmth and sunshine.
Stoli: You guys have an album & tour coming up this month and into March. How exciting is that and how do you prepare to hit the road?
decker.: We are extremely excited for the album release and to be on the road again.   We've got some wonderful shows coming up and things look really encouraging.   That said, last time we were on the road didnt work out too hot ;) so we will be extra diligent in the vehicle we choose.
Stoli: While on tour in August 2012 you had a scary accident when your van rolled over in California. Does that experience weigh heavy on your head and did that change how you see life & music?
decker.: I can honestly say that I'm grateful for it.   One day, several weeks after the accident, Kelly, who took the brunt of the physical injuries (she was thrown from the van and broke a bone in her neck) expressed the same sentiment and I was quite relieved.   I think we all feel like we have a new lease on life and such gratitude and we really want to seize the opportunity to create, experience, and live.   I personally have no baggage from it, only inspiration.
Stoli: Offer readers a brief history of decker. and how you guys have such longevity?
decker.: Decker has had many members come and go.   Decker essentially began with the release of the first record "Long Days." In October 2009.   Since then we've toured as much as possible and released 2 more records, with the fourth, "Slider," due out this month.   I attribute the longevity to my obsession and compulsion to continue.   I am so grateful to have the most solidified and committed members I've ever had in the band in Kelly Cole and Bryant Vazques (not to take away from any past members) just after our accident we are like family.
Stoli: Your new album is called 'Slider.' How long were you working on that and where did you record the tracks?
decker.: We came back from Austin and SXSW last March and were really on the heals of the EP we had put out the prior fall – so we had been playing those songs for about a year and were pretty burnt on them.   We saw this Austin band "Some Say Leland" who really blew our mind and we came home with intention to create.   That said, I had a burst of songs come to me, which, when I brought them to the band, they instantly felt.   We wrote the album in a matter of a few weeks and then I bought some upgraded gear and started recording. We mixed it with a great place, 513 Analog in Tempe that really enhanced the sound.   I feel like it has a similar warmth to some 70's albums.
Stoli: I love the video for "Killing Me." What is that song about and how does it flow with the video storyline?
[youtube cVvgAnSDk0g]
decker.: Actually my dear friend in Seattle, Gabriel Mintz, wrote Killing Me.   So you'd have to ask him :) Its a beautiful song, the first time I've ever covered anything on an albu,.   I was elated he gave me permission too.   I know what the song means to me.   In terms of the video, we just wanted to do an homage to Natural Born Killers kind of.   It takes the literal stance of killing as it were although the song speaks more of a spiritual or emotional death I think.
Stoli: Would you say that Brandon is the leader of the group and why do you spell your name, decker.?
decker.: I (Brandon) am the founder of the group.   I'd say I've functioned as leader for the most part, although we're pretty democratic these days.   The decker. logo was just an accident.   When the first record was getting done I still didnt have a name for the project and my friend who was working with me on graphic design came up with it.   It just stuck.   Gets a bit tricky when writing about it though.
[youtube x1rhYSucu0s]
Stoli: Last night President Obama laid out his vision for the US. What is one issue that is of concern to you that is going on today and why?
decker.: An issue of concern to me today is that seemingly all politicians are liars and have little to any concern for the people.   I'm tuned out to these silly men that are supposed to be our leaders today.
Stoli: What will you miss the most from home while on the road?
decker.: My 19 month old son Cohen.
Stoli: How do you seek & hear new music these days and do you have any cool bands that you have discovered?
decker.: Most of the music I listen to is bands we know or have played with.   I'd say most music I listen to comes from the recommendation of a trusted friend.   I'm less and less internet savvy these days and I fear I'm getting old.   In terms of bands I love: Gabriel Mintz, Adam Faucett, Wesley Hartley and the Travelling Trees, The Whiskerman, AA Bondy, and Cotton Jones are a good start. And Fleetwood Mac.
Stoli: What is coming up for decker. and where you at online?
decker.: Coming up for us is the big release of Slider Feb 26 and a bunch of exciting shows through the spring then who knows?! http://deckermusic.org is the best place to find us. Thank you for your time!