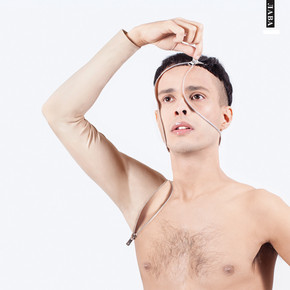 Today, Slava has treated us to the 1st single from his upcoming debut album, Raw Solutions, due later this spring. "On It" is a spastic jam that finds this young DJ continuing to use his signature vocal samples to balance the Chicago House that shaped his upbringing, while also fusing R&B, hip-hop & more. Check it below, and remember to recycle any old singles or albums with  
musicMagpie.com
 and make money  for some new house music albums.
[youtube 00LjTxi-qH8]
Slava's music is very much informed by his cross cultural upbringing. Born in 1980s Moscow, Slava developed a taste early for the pop glamor slowly steaming its way through the Cold War door. Stricken by the particular flair of Freddie Mercury, young Slava imitated his every dance move, complete with fake mustache, slicked-back hair and a broomstick for a microphone stand. After moving to Chicago at the age of 12, Slava discovered a new object of obsession — House Music.
At 23, Slava began creating his own productions inspired by the city's musical legacy, tinged with bittersweet memories of a childhood spent in socialized housing blocks.   Like the pop music that slowly trickled into his native Russian as he grew up in the 80s, pop influence works its way into the House music he fell in love with when he moved to Chicago as a teen. By the time he moved to NYC in 2009 his Chicago-by-way-of-Russia 2 step was a highlight of dance parties and after hours sets.