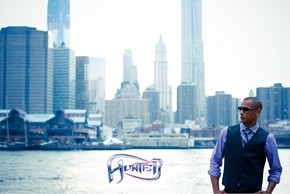 It is human nature to try to classify things; to put them in a convenient category for us to make sense of. So on the initial listen of Hunter's new album, Pressure, I assumed I was in for a healthy dose of radio-friendly Pop. But the album offers much, much more than that. See, when your influences run the musical gamut as his do, diversity becomes your strength. And once your album becomes imbued with that diversity; myriad musical dimensions can be achieved.
Hunter was a natural performer his whole life, as evidenced at the earliest of ages. "My first musical memory would be performing in church in a Pre-K ministry," Hunter said. "Kind of like a little children's choir. That would be my first experience ever as a performer. The next performance was an elementary school talent show. I did Michael Jackson "Rockin' Robin."
Through his developmental years there were concert choirs and classical vocal training, a bachelor degree in Music Industry and on to his first college band, a Bluegrass/Folk outfit. Other projects followed but Hunter isn't the type artist to put all eggs in one basket. "I was a session singer for a lot of different artists," he said. "That's part of what I do; I write for other artists. I ended up working with this one woman who hosted Karaoke and was a wedding singer and we just connected right away. That led to me meeting up with (producer) 'Prodoc' and I did a few tracks for him and he told me he wanted to work closer together." With that the two started collaborating on Hunter's debut solo album.
"I told him I want to do something different, something in a Pop genre," Hunter said. "But I want to do something different than what's out there already. So I took House, Techno, Reggae, some tiny aspects of Rock and mix them all together. Prodoc and I went back and forth on the tracks and after a lot of hard work we came up with the album."
Hunter "Dancin Man" MP3:
http://k007.kiwi6.com/hotlink/349het2n78/dancin_man.mp3
The myriad genres that made the album are an amalgamation of the numerous artists that have influenced and inspired Hunter over the years, starting with the King of Pop himself. "I'd say my biggest influences ever was Michael Jackson," he said. "I'd have to say he may not have the best voice of all time, but I think as an entertainer there's no one that can compare to him. But I draw from a number of influences… Bob Marley, Bruno Mars, Black Eyed Peas, classical R&B artists, James Brown. But throughout my musical career, there have been several avenues that contribute to who I am now."
Buy:
A trip through the 12-tracks of Pressure reveals that Hunter isn't afraid to wear his influences on his sleeve. The album kicks off with a clear nod to his musical hero with title track "Pressure." Lyrical matter is a commentary on the trials of the music industry, but the samples and musicality is all Michael, from his trademark vocal fills to the track tempo that bears the same urgency of "Smooth Criminal" or "Bad." "Dancin' Man" follows up in the club vein. The electronically generated melody, club-paced beat and the quick fire vocal delivery are the stuff to make a dance floor come off its feet. And in another change of pace "Yeah, Maybe" brings a mid-tempo, R&B spiked love tune with more spacey electronica in the background. The lyrical matter shows that Hunter's songwriting has equal ability to be light hearted and heartfelt. "My Direction" opens with distorted electric guitar before surrendering to Tropicalia percussion and Latin backing vocals. This one is perhaps the most eclectic track on the album. While on paper it may sound contrived to lace Rock electric, with Electronica over Caribbean facets and make the track harmonious; this one works with the sum of the parts predominating. "Prodigal Plan" brings a Reggae-laced vocal delivery and could pass for a Matisyahu track with deep, thought-provoking lyrical matter.
Defying classification, Pressure has facets of so many genres that Hunter has a knowledge and command over that the album surely has to contain something for next to everyone. From track to track it becomes evident that he is simply playing to his strengths and they happen to lie in the diversity that comes from his myriad influences. There is an inherent danger in mixing so many veins of music on one album, leaving the listener directionless and bombarded by "too much this" and "too much that." But that isn't the case on Pressure, instead allowing each track to be enjoyed for what it is in the vein it is in.
www.huntermusicny.com
www.facebook.com/huntermusicny
https://twitter.com/huntermusicny                
Christopher West – cwestlaz@gmail.com