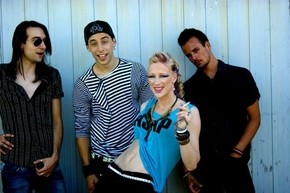 Sometimes chance encounter is all it takes. It is that moment of serendipity where the universe is seemingly telling you: "you're supposed to meet this person." Such was the case when Mary Keey and guitarist/producer Phil were touring separately and met one another. And in that instant, both of their careers would change and the rise of a band would begin.
"I met Mary when I was on tour with my old band, Houston. It was a rock band and I was on a European tour from Holland to Switzerland," Phil said of their initial meeting. "One night I met her and we kind of talked about: 'Listen, what are you doing right now, what am I doing?' and I knew I wanted to start this project with her. I felt she was the right voice and the kind of person I was looking for."
[youtube MIOYlFpQp8g]
As the project got off the ground and began to take on more momentum, 2010 saw Phil and Mary release their first single "Not Good Enough" which was their first single released for American audiences. Soon after, the duo realized they needed more hands to pull off the sound they were looking for. Phil made a call to an old friend and drummer, Lizzy and after he joined they recruited Al B to play bass. Besides simply supplying extra hands to take on tasks, the band was also focused on their live presence. "Every artist in this genre has a live scene," said Phil. "So, it's not the same as what you record or what you build up on an album." "And we don't want to be a DJ and a voice," Mary added. "Because that would be the other option. We wanted something more powerful than just the song through a speaker. So we rearranged everything to make it as a band."
Listen: https://soundcloud.com/mary-keey
Phil confessed that a typical track begins with the music and the idea generates around that. And their genre of choice is clubby electronica laced pop; much in the vein of Rihanna, Pitbull and Nicky Minaj. Their first EP release, O.M.G. was a three-track collection of club-friendly songs such as the synthy laced "It's Music" and the DJ heavy scratches, pop synth sentiment and heartfelt vocal delivery on title track "O.M.G." Late last year, the group released the single "Closer" which features an up tempo almost Tropicalia backing beat over synthy key notes with tight technical production work. Mary's slightly effects-laden vocals shine at the forefront and certainly lead the track through to the close.
Currently, the band is working on new single, "Lights" which will has them on a jaunt to London to record at Chapel Studios in Wimbledon, with a few shows thrown in for good measure. They are also working to release a new album and they are allowing the process to dictate whether it winds up a full length or another EP. Ever goal-oriented as they are, Mary perhaps summed it up best in closing: "We just want to play; we just want to get out and play."
Best wishes to the group as they get their new career off the ground and lots of luck to them going forward. For more information on Mary Keey, see her website at www.marykeeymusic.com.
Christopher West – cwestlaz@gmail.com