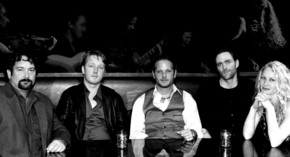 Good morning world! This weekend as I was playing music on my Amazon player through my Roku, I noticed I had lots of extra music on there. Amazon took it upon themselves to transfer any physical CD's I bought from them and place the digital versions in my cloud. I thought that was awesome to do, plus it was free. This week we head to Sarasota, FL to chat with a group by the name of The Lotus Fire. They have a new album out 'Come Out SWinging' and it's 45 minutes of musical bliss in terms of incredible vocals and top notch instrumentation. With songs like "Crazy Lady" and "Release" this group needs to be heard. Join us this week as the group talks about getting started, goals for 2013, discovering new music, and much more!
Stoli: Where are we talking from today and how was your Christmas?
NK: Sarasota FL, had a great holiday spent with family.
AM: I was woken up at 7 am to the sounds of my two children opening their presents and my son screaming "Another Power Ranger!!!!"   We spent the day with my parents who have been divorced for years but now are good friends. It was an awesome holiday.
CLA: Sarasota. Uneventful and relaxing.
Stoli: Would you say that you are looking forward to 2013 and what are two goals the group has to accomplish?
NK:   I'm really excited about the year ahead, the band is gaining a lot of momentum right now and I think we're on the right path. As far as goals go the two biggest would be finding the right booking agent and label.
CLA: In nearly every way, this band has been one constant evolution since it started. It has gone through personnel changes, music style changes, instrumentation changes, and branding changes. But more than that, each member has evolved musically. Each of us has expanded our understanding of music through our band mates. We have learned from the experiences and opinions of each other and, as a result, our music continues to expand, morph, and encompass greater understanding. As far as goals go, I would like to see this trend continue.
KA: Tour and record another album with the allowance of more time being dedicated to the song development process. I'm hoping to collaborate more with Nic and Ari in the beginning of the song writing process. I have a desire to see our music evolve harmonically speaking and getting the guys to back up Ari more -vocally.
Lotus Fire Members:
NK = Nicolaas Kraster (Band Leader/ Guitarist/ Composer/ Lyricist)
AM = Arielleh McManus (Singer/ Lyricist)
CLA = Christopher Austin (Percussionist)
KA = Keven Aland (Violin)
Stoli: How did you 5 musicians come together and what is the meaning behind The Lotus Fire?
NK: Keven and I met at a jam night I was hosting and started the first incarnation of the Lotus Fire. We had a nice run for a few years then disbanded. I met Jon years later and we formed a band called Los Listos, it was at a Los Listos show that Jon and I met Chris. Ari used to work at that same venue so I imagine we met there but didn't get to know each other until I heard her sing with a band called "Eclipse". That night I asked her to join the band Jon, Chris and I were starting which became "Cabal".   A few years later Keven joined us and we once again took on the Lotus Fire name. I think the name means something different to each of us but to me it represents the search for balance between spirituality and passion.
CLA: For me, the appeal of "Lotus Fire" is not only the imagery and metaphor, but also the seemingly conflicting aspects of the metaphors. The lotus (flower), to me, is the idea of calm and clarity regardless of the surroundings (from the dirt and muck under the water, this beautiful flower makes its way to the surface). Fire is hot and is associated with passion, sometimes reckless passion. It is hard to imagine intense passion coexisting with calm clarity. I think The Lotus Fire does it pretty well.
Stoli: I am really loving your new album "Come Out Swinging." How long were you working on this and why did you title the album that way?
NK: Thank you, I'm glad you enjoy it. The album took three to four months to finish. When I was compiling the track list with my friend Blair Alef I asked if he thought we should start with three fast tunes, he said yes to which I replied "Alright, we'll come out swinging". We looked at each other and new that we had our album title. I brought it to the band and they approved so it became the title.
Stoli: Nic and Ari are the songwriting team. Give us a glimpse into a songwriting session and do you always agree on lyrics and/or instrumentals?
NK: Each song comes about in its own way, sometimes I have a progression and I tell her what inspired it and we start brainstorming lyric ideas, sometimes she has songs pretty much done and just needs accompaniment. Usually the disagreeing happens when I'm trying to edit her lyrics. Ari and I have the advantage of performing as a duet on a regular basis so we can get a good working form for a song before we bring it to the band. Once the band starts working on it, it really comes to life. For example; take the song "Amor". As a duet tune "Amor" really doesn't carry much weight but once everyone got their hands on it, it came to life. Jon's sextuplet arpeggio runs during the chorus, Chris' input on the 5/8 and 12/8 bridge and Keven's haunting violin flowing between hope and sadness. These attributes are what define the Lotus Fire.
AM: My friend Jimmy always says try to write a little bit every day, it won't always be gold but when it strikes, you'll know. Every time I clean my house I can't tell you how many old papers and random napkins I've found in drawers and folders, old books and spirals, that have had old songs in old arrangements, ideas that have become what we perform today. When I write something I try to come up with a melody as well so it becomes more than poetry when it comes time to show Nic, but often times we'll sit outside while he plays guitar and I'll write what story I hear him playing. Our biggest problem is when I start improving on the patio, and he says oooh write that down, that was good, I'm like; what did I just say? It would seem we need a stenographer to follow us around.
Stoli: What are the advantages to making this album bilingual and how can you tell what language the song will sound better?
NK: I think it's more that the song tells us. The song Amor is an instrumental that I wrote years ago, when it came time to give it lyrics I knew it had to say Amor over that big chorus so it basically had to be in Spanish. Those lyrics are the only Spanish ones that I have written, with help from Jon and Google in the translation department. The rest are Ari's
CLA: We've been told (and it seems fairly apparent) that there are several marketing advantages to having bilingual music. Most notably, the music can be presented to both Spanish and English speaking listeners. Obviously, this increases the number of potential listeners. Also, there is value in listeners not understanding what the lyrics mean. For English speakers listening to our music in Spanish, or vice versa, their mind is able to focus less on the meaning of the words and more on the composition and presentation of the music. That's not to say the words aren't important or engaging, they are. But when a person listens to music and they can't translate the lyrics, the voice becomes differently integrated into the music than if the listener was focusing on the words and their meaning. The process of choosing the language isn't as much a cerebral choice as it is an emotional tendency. Ari has a great gift of feeling the music and going with her intuition.
[youtube 0Epq-4_MB5I]
Stoli: Your live show videos look awesome. What do you enjoy most about playing live and where can we see any new shows you have coming up?
NK: I've played for so many different kinds of crowds but when you have a concert setting and everyone is hanging on every note, that's Heaven. We play weekly at a Local Spanish restaurant/music venue called Ceviche. We also have two concerts coming up, Feb 14th in Sarasota "Return to Romance" opening for Jon Secada and Feb 22nd at Myakka State Park with the Willie Royal Quartet (Violinist of Willie and Lobo).
Stoli: What is the best part of being in The Lotus Fire and what does music offer your life on a spiritual level?
NK: The best part for me is getting to hear a band full of amazing musicians take my compositions, add their own unique abilities and create something better than I ever dreamed. It's an honor to play in this group. My most spiritual moments with music are when I feel it coming through me instead of from me; it's as if the music is playing me.
AM: There is an uplifting freedom in connecting to what we find while tapping in to our purpose and sharing it with others. We live, experience each day, each moment, and when we feel so moved emotionally, spiritually, as human beings we need to express it. Music is the most direct line I've discovered that brings me closest to God and why I might be here.
Stoli: We are living in an amazing time where you do not have to dumb-down your music to create a nice following. How much time is devoted to social media to keep fans and gain new fans?
NK: In my compositions I always try to put the audience first yet challenge them at the same time. A friend of mine just said to me tonight "The great thing about your music is that it's exotic yet accessible". I think he nailed it. As far as social media goes we have all the pages and sites but I'm still learning how to make the most of them.
CLA: We do not devote as much time as we should to gain new fans. Most of our social networking is focused on interacting with and keeping our current fans informed using Facebook and Twitter. We understand the importance of social networking, but it can take a lot of time to do it right. All of us are very busy and have a hard time doing as much as we should. This is where a good manager would come in :)
[youtube WLtARqvgF0g]
Stoli: Where do you turn to hear new music and do you buy music physically or digital only?
NK: I usually stumble onto new music on YouTube and Pandora and purchase CD's at Starbucks.
AM: My dad. He usually has the skinny on all the latest and greatest up and coming artists.
CLA: Typically I turn to my musician friends and ask what they are listening to.
Stoli: I love your song "For Sephora." Please speak on that song and what it means to you?
NK: "For Sephora" is an instrumental Gypsy Swing piece written by the great guitarist Stocelo Rosenberg for his sister Sephora. Keven turned me on to that tune a few years back and I fell in love with it. We would always do it as an instrumental then Ari started writing lyrics to it. The name, intro and chord progression are from the original piece, the rest is new. When we were writing the lyrics I envisioned a dance hall with a bunch of swing dancers in the 20's.
Stoli: Many people are concerned with issues going on in the world today. What is your view of the world and what concerns you going into 2013?
NK: We are becoming a global society and the world is going through a lot of growing pains as a result. I just hope people will realize that were all in this together.
AM: I am concerned about the level of concern. When I am overly involved with what the world is doing or what I think it should be doing there is no solution found there for me. Instead I try to keep my concerns within my control, my thoughts, actions and words. If I want world peace I first must have peace within myself.   2013 Is going to be a beautiful year.
CLA: The world is what it is. I do what I can and attempt to lead as conscientious a life as I can. My concerns are with people who are ignorant, arrogant, and without compassion.
Stoli: What is coming up for The Lotus Fire and where you @ online?
NK: Touring! And our new website should be done by mid January.
www.lotusfire.co, www.facebook.com/thelotusfire, www.reverbnation.com/thelotusfire, www.twitter.com/thelotusfire, www.youtube.com/thelotusfireband