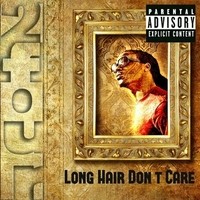 Hailing from the famed land of country music, Nashville native De'Andre Davis a.k.a. 2FOUR ain't singing much country. But he is an ex-football star who ditched the gridiron in college to pursue his musical passion. Now resulting from this choice is his debut EP, Long Hair Don't Care, a touchdown's worth of tracks that pack swagger, as well as moments of contemplation and some fine lyrical imagery.  
It is reported that, while in high school, 2FOUR won the state championship. Perhaps this helped imbue him with the supreme confidence this young "Cashville" native displays throughout an EP of heights, lights, shooting stars, and rhymes like deadly weapons; there are such tracks as "Ballin'," "Cloud Steppin'," and a superb rendition of "Top of the World," which will receive further mention.
In "High 4 This," he is "flyin' like D.B. Cooper," "dancing with the microphone," and taking women to the "Milky Way."
The track "Edgar Allan Poe" laments a woman — beautiful by nature — who has been compromised and cheapened by material excess. The speaker wishes that she be "poetic like a raven." Old Edgar would approve.
[youtube U1Zlz5qXpBY]
"Take my Time" does not seem to be a song about abstinence but more about slowing down the tempo to give the girl what she needs. It appears, however, that in the fullness of time, both parties obtain their gratification: "I'm 'bout to make her earth quake / I got her pinned down."
The present reviewer actually prefers these lines, sung about five seconds before: "And I can tell how she want it by her face looks / Posted her on the wall like a comment on Facebook."
They say that a good lyricist uses tangible imagery — instead of abstractions and generalities — to paint a scene and convey a mood; ladies and gentlemen, this is tangible imagery.
2FOUR's "Top of the World" features a dual-vocal track: one soaring high, the other rough and husky. It provides a really cool effect. With its seductive flow and infectious vocals, this piece is waxed and ready for some serious radio play.
If 2FOUR, still just 21 years old, is already on "top of the world," he probably has a long life ahead to come crashing back down. In the meantime, one can expect more fine tracks.  
Long Hair Don't Care can be purchased at: https://itunes.apple.com/album/long-hair-dont-care-ep/id571185174?v0=9988&ign-mpt=uo%3D1
Or stop by and say hello at: http://www.facebook.com/pages/The-Real-2Four/329004797122427
Ray Cavanaugh – owleyesgatsby@yahoo.com