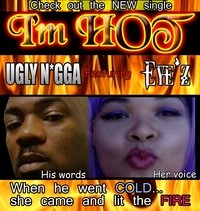 Fatimah Verrell better known as, Eye'z is a seasoned artist that has been making her presence known one fan at a time. She is a singer, songwriter, producer and actress. This quadruple threat is blessing us with her voice on this latest single, "I'm Hot". Eye'z teamed up with Ugly N**ga and her voice solidifies a sure hit.
Samples of Marvin Gaye's hit, "Sexual Healing" starts off immediately with a thumpin' bass and fresh rhymes. Eye'z creeps in and spit shines an already polished tune with her soft carefree vocals.
Buy: http://www.cdbaby.com/cd/uglynigga4
She exudes confidence and does what she does best. Like the pied piper she is gathering her followers and leaves them mesmerized by her melodies and angelic voice. This collaboration is a poignant display of Hip Hop at its finest. It is a catchy addiction that rings in your head long after the speakers have been silenced.
[youtube yzgh14uGQcs]
"I'm Hot", by Ugly N**ga, featuring Eye'z is not only a song to listen to but, it is a movement that gets under your skin and ignites things that you did not even know existed. This is definitely Hip Hop but does not only appeal to that audience. They have created a hit that awakens the inner rapper in us all. I'll be tappin my foot and singin, "I'm Hot", for some time to come. Take a listen and come join in on the fun!
http://thelovelyeyezcom.vpweb.com/
http://TheLovelyEyez.com
Rating: 4/5
Rebecca Hosking – hoskingrebecca@gmail.com