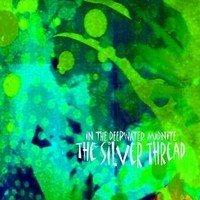 This is the latest 6 song EP from Pittsburgh based Alt-Rock band The Silver Thread   entitled "In the Deepwater Midnight." (2012)   I always listen to the opening track extremely carefully. It's the opening track the band or artists has selected to hit your ears first and foremost. The opening track "In the Deepwater Midnight" sets the stage rather well for an EP like this. It was a great intro piece that stuck in my head and had me eager for what lied ahead. All in all the whole EP is brilliantly delivered with a powerful Punk Rock textures with songs that at times can bite you and hit you hard with serious melodic staying power. Music will remind you of Silverchair, We the Kings, The Cab and even Cobra Starship.
URL: http://www.reverbnation.com/thesilverthread
To be honest I can't say enough about this bands overall signature sound. Their bio describes it best: Writing about the Silver Thread is not an easy task. Though admired and respected by their Pittsburgh-underground-music-scene peers (an admiration and respect which is certainly mutual), everyone involved seems at odds with how to describe the Silver Thread's sound. Perhaps their approach is more easily defined: All members having amassed considerable experience playing in Pittsburgh's underground music scene, the band is unafraid to embrace the rich palette of ever-shifting sounds and styles of contemporary popular music; but it should also be said that the emphasis is on songwriting and melody, and the style remains that of a simple rock band (two guitars, bass guitar, vocal, keyboards and drums).Their recordings showcase the eclectic songwriting approach: from upbeat, musically-involved pieces to simple, minimalist moody tracks to unusual studio creations all contained therein, recent recordings presents an interesting, melodically-challenging, literate (even uniquely tasteful) collection of songs. It may not be the simplest collection to digest, but its rewards are manifold, and at the center of each piece and every arrangement is an effective, if often simple, melody. Theses recordings find the Silver Thread channeling (rather than being inspired or influenced by) a wide array popular-music-history's critically renowned underground heroes: Dylan, Television, the Velvet Underground, Sonic Youth, etc.
The Silver Thread represent a fresh new voice in modern punk and present a strong message that's aggressive, upbeat and highly melodic. This latest collection of songs manages to capture lighting in a bottle and is very loud, youthful and at times even in your face.   Each piece is real, and very defiant in nature. The Silver Thread have a clean-tight sound that favors the late 90's Alternative Rock movement but with a modern rock twist. They will also remind me of a variety of bands from the 80's in the hey day of the Punk Rock movement. They have a new sound but the spirit remains the same. One would be wise to keep a watchful eye on these 4 as 2013 unfolds.
The song that stuck with me the most is the title track
Overall Rating: 4.5/5
Written by Mindy McCall
Review comments: indiemindymccall@gmail.com