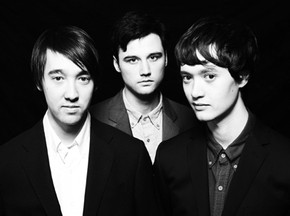 Pop music likes to mix familiar elements with fresh, unexpected ones.   By all those measures, the eponymous debut album, released in June 2012, from POP ETC lives up to its name. The members of the trio–Christopher Chu, his brother Jonathan, and Julian Harmon–previously established a measure of renown under the name the Morning Benders.
VIDEO: POP ETC "Speak Up"
[youtube gDmubAFyA2k]
With their new band listeners can hear traces of the myriad strains of pop music that informed the genesis of POP ETC. Not only contemporary grooves, but also the music of the band's youth: Mariah Carey, Dr. Dre and Wu-Tang Clan, R. Kelly and D'Angelo. The album is the work of a tight-knit unit and takes inspiration from modern studio technology and music from many eras, and–in the tradition of Scritti Politti's Cupid & Psyche 85 or Björk's Debut–gives it a fresh twist, never slavishly imitating one particular sound or style. The lyrics are likewise true to an individual spirit. POP ETC sing of love and dancing in the context of a complex, nuanced world. By mining the rich terrain between those two poles, the trio crafted a noteworthy debut.