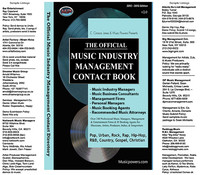 C. Cirocco Jones & Music Powers present the e-book Music Industry Management & Booking Directory. It's a 2012-2013 edition. So despite the vicissitudes of the music industry, one can be confident that the vast majority of this information is accurate and relevant.
From Hip-Hop to Country to Pop, whether you are a performer, producer, or songwriter, there is valuable information to be found.
This e-book directory is one-stop shopping for those seeking music industry managers, music business consultants, management firms, personal managers, recommended attorneys and more. There is even a "beat directory," in the event that you are seeking instrumental music to accompany your compositions.
There are 67 pages, and not an unnecessary word in sight. Contact info to over 240 professional managers and firms is supplied, as well as access to 85 booking agents. The e-book tells you where they're located, how to contact them, what they are seeking, and how to send your material.
This is a clear, accessible reference work of prime information for anyone looking to make some noise in the music biz. And for those who begin to find success, the e-book gives clear direction on how to acquire the different sort of legal forms that one may need over the course of one's career.
Aside from the actual listings, other kernels of advice are given, such as the importance of having a competent personal music manager. The e-book then goes over the duties that a (good) manager will perform, ranging from selecting the right material to setting up the right gigs, to enhancing one's personal profile and putting together a conducive media package.
From Skid Row to Outkast to LeAnn Rimes — there is a rather wild diversity of major acts that have found their managers within these listings.
If you seek long-term career trajectory, C. Cirocco Jones & Music Powers can give you the appropriate direction. The Music Industry Management & Booking Directory is an investment that could pay off many thousand-fold financially, and benefit beyond price in regard to the fulfillment of your musical dream.
To jumpstart your career, head to: http://www.musicpowers.com/musicmanagers.html
For more info, visit: http://www.musicpowers.com
Ray Cavanaugh – owleyesgatsby@yahoo.com