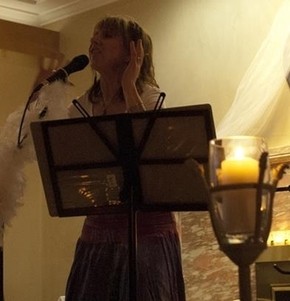 With a voice compellingly country, Paula Tozer sings her songs of devotion. Though at times romantic, the devotion is often spiritual; this is especially so on the track "Calling All Nations," which contains such lines as "peace alight in the darkness." Apt background guitars complement her soulful renditions. Find out for yourself at: http://reverbnation.com/paulatozer.
Skope recently caught up with Paula:
 
What sort of songs did you perform in the talent shows of your youth?
I come from an area where there is a strong country music fan base.   Most of the local bands played country music, so, naturally, that is what I sang.   Linda Ronstadt, Rita Coolidge, Tanya Tucker, Tammy Wynette and even Olivia Newton John were artists that I covered back then.
 
Where are you from originally? Where do you currently reside?
I am originally from what is now called Miramichi, New Brunswick, Canada.   I currently live in Keswick Ridge, just outside of Fredericton, New Brunswick.  
 
So you took a hiatus from musical performance? How long? Was it a clear-cut decision, or did you feel conflicted?
Music has always been a source of pleasure for me and for a time I enjoyed simply covering other artist's work.   I had the opportunity to begin recording back in the day, but I decided against pursuing a career in music and focused on raising a family instead.
I still performed at various winter carnivals, fund raisers and talent shows on an irregular basis for a few years after that.
A difficult separation and subsequent divorce turned my world upside down and the creativity and music that gave me so much pleasure seemed to evaporate along with my former life.   I did not sing, except around the house, for well over 10 years.  
It seemed, at the time, that the decision was made for me, and I believed the dream of performing was lost in the mists of time.
 
Forgive me if I'm prying here, but what sort of life events prompted your renewed musical passion?
I forgive you.  
It is interesting how some of the most wonderful things in life can come wrapped in painful packages.   Those gifts are there, if we have the courage and motivation to look for them.
I have experienced the passing of five members of my family, as well as two members of my new husband's family in a little over two years.  
Having so many people leave my life in such a short period has been overwhelming at times.   My process of healing has involved going within myself to find peace and answers through meditation.  
To my surprise and delight, what I found there was a loving and joy-filled new way of understanding Love!   This understanding has led to an explosion of inspiration and spiritual growth within me that is a constant source of delight!
A Course In Miracles states that "you cannot find joy for yourself alone."   The only way to keep this peace-filled, loving feeling is to share it.   My way of "Spreadin' the Love" is through songs.
I am now married to the love of my life.   This past year, while his Father and Aunt were in the hospital, I had the opportunity to see Love in action.   I had the privilege of watching earth angels at work.   The doctors, nurses, and health care workers who ministered to our loved ones with such compassion have touched my heart, and were so inspiring that I wrote a song in their honor.
Listen:
http://www.reverbnation.com/paulatozer/song/13863622-angel-dance
I truly do close my eyes, quiet the chatter in my mind, and simply listen.   There is music in that silence . . .and the words flow as I begin my dance with the muse.   That is how Angel Dance was created.
We all have the ability to be earth angels to one another.   A kind word, a smile . . .even catching someone's eye in a way that says to them, I see you, is all that is required.   No gesture is too small or is ever wasted.
Those earth angels were and still are my example.   They are my source of inspiration and call me to take up the Angel Dance myself.   And I am a much better dancer when I let the muse lead!
 
I hear you're on the quest to find the right guitarist? If you could haul in any particular guitarist to complement your music, who would you choose?
Yep. I am looking for a person who plays the guitar like it is his (or her) old friend, and has a personality as big as all outdoors!   I am sure I will find that energetic, creative partner soon!
I listen to CBC Radio while I am working and one particular interview with Jian Ghomeshi featured The Civil Wars.   When I heard them play live in the studio I was totally enchanted and realized that the sort of synergy that John Paul and Joy have is what I want in my performances!!   If John Paul White ever takes a vacation, perhaps he could give me a call J.
Or if Ritchie Sambora is ever looking for a gig in my neck of the woods, I'd be kind of partial to showing him around . . .    
 
So you have an EP due out soon?
I am in the process of tweaking arrangements on a number of original songs.   I have just begun working with a producer with Nashville connections so I am very excited about where that collaboration may lead!   The EP is a work in progress, and in the meantime I am working on getting the songs I have completed out there for folks to enjoy.
 
Do you plan to go on tour?
I would be open to that prospect, yes, when the time is right.   I would love to play country and folk festivals and am looking into that prospect — I love that vibe!  
Fredericton hosts the Harvest Jazz and Blues Festival every year and Maritime Countryfest, as well as a number of other festivals in the surrounding area.     The New Brunswick Country Showcase, a spectacular show, is held at the Fredericton Playhouse (and the Capital in Moncton, NB) at various times throughout the year.     I am excited to be part of their Christmas show!
Go big or stay home, they say . . .how about going big AND staying home??   With so much talent and so many music fans here in New Brunswick, I have set my sights on working right here in the local area for the time being.   And who knows where it may lead?  
If any of your listeners find their way to the Maritime Provinces of Canada this year, come and check out our fantastic music festivals!   We are warm and welcoming and know how to show a visitor a great time!
http://reverbnation.com/paulatozer
http://facebook.com/pages/Paula-Tozer/260747610647237
 
Ray Cavanaugh – owleyesgatsby@yahoo.com