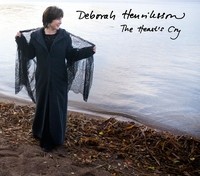 Deborah Henriksson is an American native, now living in Sweden, who makes music filled with Celtic sound and soul. Her songs are authentic to the point that one wonders if Henriksson's original name was Irish. Or perhaps she was among those Vikings who shipwrecked off the coast of Donegal.
This Irish spirit is not of the boisterous Flogging Molly sort, encouraging listeners to voyage in an ocean of Guinness. Henriksson's music is its own drug — more hypnotic than narcotic, it puts not the body, but the emotions under the influence.  
[youtube VqHoRXv8BZE]
With Henriksson's voice at the forefront — a voice intimate as a coffee shop performance but world-class enough for the largest of venues — her music has been broadcasted from Scotland to Stockholm to Staten Island.
"Harry's Game" MP3:
http://k003.kiwi6.com/hotlink/vylh27q8wp/08_harry_s_game.mp3
Released in May 2012, The Heart's Cry is her third album, and it has received positive reviews on both sides of the Atlantic. She has teamed up with musician/producer Mats Nyman to create soundscapes that echo through the abstract lands of Celtic, folk and New Age.
Track 1, "Snow," features Henriksson's soothing but potent voice and establishes the undeniably Celtic elements of her work. Track 3, "Perfect Time," provides a rather haunting acoustic melody.
Track 8, "Harry's Game," offers a mesmeric chorus, eerie and beautiful; it would make a fine sonic companion to a peaceful death with a hopeful afterlife. It is interesting that such a song would have the title "Harry's Game"; to many familiar with the British Isles, this title would bring spine-tingling images of the IRA assassin thriller TV miniseries and novel by the same name.
[youtube ctW-PK1SDD0]
The 12th and final track is an inspired cover of the Eleanor McEvoy hit "A Woman's Heart." Even those who aren't so keen on Celtic music will be impressed by Henriksson's voice, from which they might receive therapeutic benefit.
Fans of Celtic music will likely be tempted to add at least several songs of this album, available at: https://itunes.apple.com/album/the-hearts-cry/id527580447?v0=9988&ign-mpt=uo=1
To learn more about Henriksson, who is currently writing new material for an upcoming EP, visit: www.deborahhenriksson.com.
Ray Cavanaugh – owleyesgatsby@yahoo.com