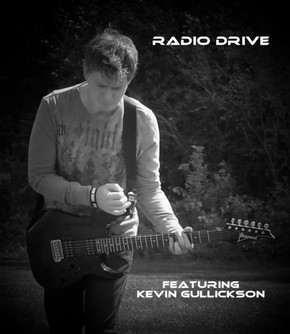 Whether he's climbing Top 40 Charts in Calgary or serenading a St. Paul soup kitchen, Radio Drive mastermind Kevin Gullickson — a one-man band since 2009 — brings optimism and energy to his alt-pop endeavors.
Drawing on varied guitar influences, he performs his share of six-string gymnastics on latest release 'This is our Time': http://www.radio-drive.com/music.htm
Skope recently interrupted his songwriting to ask some questions:
I notice you're quite prolific — do you already have another album in the works?
Thank you! Yes, I have started a new album. I've not gotten very far other than about a dozen song ideas, riffs, chords and the like. I do have an overall conceptual idea how I'd like to shape the sound of the album. I'm looking forward to squirreling away and getting started.
What's your biggest source of musical inspiration?
I love just sitting down with a guitar, or sitting down to the piano and playing around to see what comes. Especially on the guitar if I'm plugged into some FX to get some new sounds, that seems to always trigger a riff or song idea.
I think another big source is hearing great music. I listen to music from every genre – classical to rock, country to punk. That inspires me to get in the game and write.
I can't forget to mention people and life situations…love, infatuation, joy, pain, you name it. There's a story in every person and what they're going thru, whether good or bad. And in that there is a song somewhere waiting to come out.
Where are you from originally?
Originally, born and raised in Rochester, MN.
I notice you've had some success in Calgary — do you tour there?
No, but I'd love to. I made some great connections with the DJ at a station there and have been getting some good radio play in Canada.
Where do you usually tour?
Currently I don't tour. I'm a one man band which has lots of advantages, but one disadvantage is not having a band to tour. I have done solo shows with an acoustic guitar and some shows with backing trax. But nothing compares to a live band. I've mainly focused on making CDs and developing that over the last few years. Although I do want to put a band together and do some shows. I've got my feelers out now looking for the right musicians to work with.
What prompted your move to NYC?
I was living in Rochester, MN (my hometown) and realized I needed to move to either LA or NYC, where the music business is at. I had a friend living in NYC who invited me to stay and get my feet on the ground. So I did. I loved it there. It was the best time of my life out there. I met my wife, Kimberly. We were totally care free enjoying all the Big Apple had to offer. Musically I had some great things going on. I was playing the clubs, had interest from some labels, management and producers. I do miss NYC and wouldn't mind moving back there someday.
What prompted your hiatus from music? Do you regret it?
I was living in NYC when I got news my dad had severe cancer and was only given a few months to live. With news like that I dropped everything and came home (Rochester, MN) to be with the family. After his passing, my wife and I decided to stay in Minnesota and start a family. Even though I took a hiatus, I was still writing and recording some demos, but much more low keyed than before.
No, I don't regret it. You can't put a price on family. It was the end of my dad's life and the beginning of my family's life (we now have 2 children). It was the best of times and the worst of times (to quote Charles Dickens). I believe we're shaped by the experiences we go through. I learned so much through those years. Without a doubt it made me more sensitive to what people go through. During that time I developed roots and a foundation and was able to make some fantastic friends who stood by us.
[youtube XRR7C2hI4io]
You showcase some stellar guitar chops — do you have a favorite guitar god?
There are quite a few who influence me. To mention just a few:
Jimmy Page – I love his effortless style and how he can play so fluently and get those heavy sounds.
Tony Iommi's – I love how his solos are so melodic. They can stand alone as a song by itself. Plus he's got great speed.
Ritchie Blackmore – My favorite solo of his is Highway Star. He can play on and on and never sound boring. I like the different scales he would use.
The Edge – not that he's known for his solos, but more for the creative innovation. I love how he can take simplicity and make it sound ingenious.
Yngwie Malmsteem, in my opinion, has to be the best guitar player I have ever heard. His influence has been to take the lid off all possibilities what someone can do with a guitar. When I hear him I think how much I need to practice those scales!
Radio Drive signs with Blue Pie + Hollywood Music Award:
http://www.bluepierecords.com/news.php?news_id=1788
You seem to be active with charity — what got you started with that?
Over the years of my hiatus that I mentioned, developing roots and a foundation, my perspectives also changed. Some things that once were so important now take a back seat. Success for example, is more than just selling CDs and getting fans. Success is also about making things better for others.
For years my family and I have played music at a men's homeless shelter in St. Paul. We try to help when we can with other charities like Feed My Starving Children. I'm inspired by Bono and others who use their celebrity status to bring attention to major causes. I think everyone can do something to help, no matter how small it may seem, every little bit helps. There is something so rewarding helping others that you can't put a price on.
One example I like to share is this organization called OXFam that helps feed families in developing countries. Instead of giving money to pay for a meal, they use the money donated to buy a family a goat, or chickens, oxen, cows, etc. The donations I gave were used to buy a few goats that were given to these families in need. These goats will produce milk and cheese for years to come. That blows my mind! I've got a "Get involved" page on my website where you can learn more about this and other charities.
Your titles have their fair share of optimism — does that reflect your personality?
Yes, absolutely. I believe you can't give away what you don't have. I always look for the solution instead of focus on the problem. I love to see people succeed in life, whatever success means to them. I like to encourage people and give them hope for the future. That comes naturally and I love to pass it on.
Ray Cavanaugh – sentbygatsby@gmail.com