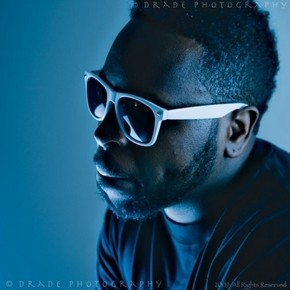 Hello and welcome to a Thanksgiving edition of Skoped Out. You know the mainstream news is full of negativity and chaos. I want to go the other way this holiday season and say that I feel blessed to be a part of Skope and to watch the music industry bouncing back in so many ways. I truly feel like the digital revolution is showing that it is a blessing and not a curse to our business, plus we are just getting started! I am also blessed to have an emcee on today by the name Incwell who is the epitome of passion, endurance, perseverance, and talent. After reading this man's story and hearing his music I was hooked and had to have him on, plus his album 'Falling Up' is out now. Join us this holiday week as Incwell opens up on his rough beginnings, how he got his musical alias, check out his single "RG3 (Never be the Same)", and so much more!
Stoli: Where are we talking from today and what will you be for Halloween?
Incwell: We're speaking from Rockville Maryland this morning I'm doing a little bit of work out of my home studio.   Good question.   I'd like to be a rapper for Halloween!! Instead of a musician stuck in a rappers body! lol
Stoli: Halloween kicks off the holiday season. Do you like the holidays or is it not really your thing?
Incwell: No Halloween is cool, I've got step kids, God Kids, nieces, and nephews so it ends up being a pretty big occasion.   Usually all the adults break out our bottles of whiskey & mama juana and take the kids out.   It's like a mini holiday for us too.  
Stoli: You were born & raised around Washington, D.C., at what age did you discover music and was music part of your family?
Incwell: Yes I was, my Grandfather exposed me to a lot of different music at a very young age.   He like Pink Floyd and Steely Dan, the Beatles, basically all the flower children and it really rubbed off on me.   But as far as musicians/artists I really don't think there are any others in my immediate family.
Stoli: Your bio speaks of a broken home growing up. Can you offer some more about that experience and how that shaped you as an emcee?
[youtube 5lBXiDvyiis]
Incwell: Yes, well in the earlier part of my development I lived in NW DC.   You can call it your typical 80s baby story or not so typical for some but crack hit hard here.   In my neighborhood it hit extremely hard.   My father was a crack dealer & both of my parents were crack addicts.   I have some of my earliest memories of the our home being raided.   Eventually, the lifestyle would lead to my father being murdered and my mother spending the better part of my adolescent years in and out of prison.   I moved in with my Grandparents at a very early age and they raised me.   It definitely molded me into the artist that I am today.   It gave me a lot of resentment and angst.   It shows itself in the music but constructively.   It's made me a better person and therefore a better artist.   Built a character that I probably would of lacked without being struck by such horrific tragedies.
Stoli: How did you get the musical alias Incwell and how does that describe you as an emcee?
Incwell: Well I spent probably 2 years of my life in a shell.   Literally, nothing but work and writing.   No parties no nothing.   I really dedicated myself to my craft and admittedly I was in a deep depression and funk.   When I emerged I could ink really well.   At the end of the day I am a writer at heart.   It describes me perfectly as an emcee because I spend hours/days just writing one track.   If someone actually sat down and critiqued my cadences, rhyme schemes, and flow I think they'd be thoroughly impressed.  
Stoli: Your new album 'Falling Up' is out now. How long did you write and record that and where can we grab a copy?
Incwell: This project actually took me about a 2 months to write.   I was coming off a slump because I had just finished writing a live project called "Heartbreak Gotham" which has yet to be released.   I also just finished up a project I did called "Whiskey & Flower Child Music" and I was writing a smaller EP called "Colinco Visions." (both free and available as well on my web page) So, I was definitely burning myself out.   I wanted to give people a different feel.     I felt that musically it was a good fit and eventually I got into a real rhythm.
[youtube sE38e5MgOow]
Stoli: What do you mean by the title 'Falling Up'?
Incwell: It's like the feeling of everything going well but still in your gut you know something isn't right.   Essentially, for me it had a couple meanings.   A lot of it is a representation of my relationship with my mother.   She has relapsed a few times and it always seems to happen when things are going well for me.   So it's like a bizarre dichotomy or very bittersweet because you want to feel good about what's happening with your career, your passion, but you can't because you're in and out of court with you mother whose also suffering with a terrible heroin addiction.   In summation, I'll just say it's when life puts you in ironic oxymoronic situations.    
RG3 (Never be the Same) by Incwell:
http://incwell.bandcamp.com/album/rg3-never-be-the-same
   
Stoli: What track off the album will be the single/video to help promote the project?
Incwell: Of this particular project the single is "New Day."   Everyone has their own favorites I think general consensus is that's the one that best represents me as an artist and a person.   All my music is profanity free and a lot of people don't know that.   New Day is an extremely neutral track in that I think it works all across the board.
Stoli: I love your song "Way I Feel." What is the meaning & messsage behind that song?
Incwell: Thank you very much.   One of my favorite tracks.   Very honest though I consider most of my music to be so.   The meaning is really a look into my mind and inner most thoughts.   As an artist struggling with life like everyone else.   Often times artist become glorified icons and false idols.   That song is just telling you what I'm going through and will probably always go through.   I hold the bar really high and so in a sense I'm always gonna be reaching for the unattainable.   I say in one of my tracks "Another sleepless night go ahead and chalk it up, but when I'm in the zone it's like I never lost my touch, isn't it ironic I emerged from the mud, but my hunger can't be quenched and the worlds not enough."   That's my personality in nutshell.
Stoli: What other things do you enjoy to do besides music and do you have work/school as well?
Incwell: Playing poker, sports, and hanging out with family and friends.   I'm a pretty laid back person.   I like to drink as much as the next guy.   But I like bars not clubs.   Music is my only work.   I do a lot of production at the moment and I believe thats whats going to separate me from the rest.
Stoli: What has changed for an emcee coming up in 2012 as opposed to 1995?
Incwell: There's a big difference.   Back then no one tried to put you into a box.   You were who you were as an artist.   Nowadays they try to conform you a lot more.   And because of that very few people want to take a risk on great artist who are outside the box.   You can't make a living off of just putting out and album.   The politics and the machine behind it has all control.   They tell you who and what to like. You just gotta know how to work the system, I'm definitely not complaining it just is what it is, big business.
Stoli: The US will be voting in two weeks. What is an issue important to you and will you vote?
Incwell: Yes, it's important to get out there.   i am registered as an independent, I vote the issues.   This year I will again be casting a ballot for Obama.   I believe he needs a full two terms to get his agenda through and I believe in him and his vision for my country.   The most important issue to me is equality.   I believe everyone needs a fair shot and opportunity whether black, white, gay, male, female, poor, rich, immigrant or naturalist.   I believe when you have equality everything else will begin to fall into place.   I grew up in a ouse where my Grandfather was a Rep. and my Grandma was a Dem.   They both worked government jobs for nearly their entire lives so I follow politics very closely.   It's all dirty, you just gotta decide what you believe in.    
Stoli: What is coming up for INCWELL and where you @ online?
Incwell: More projects more work.   Just started my new EP entitled "Majhong Rockstars."   Doing a lot of production and writing for other artist.   My Reverb Nation page was hacked and I have to do a long list of things to acquire it back.   For now I'm on iTunes and I have 4 free projects online @ www.incwellishere.com ; my temp website is www.incwellepk.com ; Im on twitter @incwell ; and Facebook page "Incwell" also ; anyone can find me by searching on google.   Special thanx to Skope Mag for a great interview and giving me a chance to speak to music lovers around the world! God Bless.