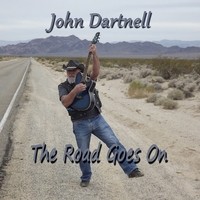 It was surprising to discover that this album of eminently American-sounding music comes from a U.K. native. Not only does Britain's John Dartnell pull off the sound of Uncle Sam's country & blues, he also damn well looks the part. See this for yourself at his cyber "circus": www.JohnDartnell.com
As for the album, it is peppered with gloomy but engaging guitar solos — all of 'em rendered via the acoustic. That's what Dartnell brings: an acoustic and a voice. There's something earnest and raw about this music, and there's a convincing lot of pathos in that husky voice.
[youtube nV3oiGXgE4k]
"A Love Song" offers a mournful twang, nostalgic for the long ago excitement and rapture of youthful love. "Let's be kids again" is sung in a way where one knows that it's probably an impossible goal.
http://www.cdbaby.com/cd/johndartnell6
"Bar Room Time" offers a slightly haunting progression of minor chords. "It's bar room time/ Just to get you off my mind." Though the speaker is clearly somewhat distressed, he finds solace in the knowledge that "there's always bar room time." It seems one can always find something to take comfort in.
"Dance in the Rain" has a clumsy sort of beauty, and may have the best shot at radio success. Lyrics such as "I've learned to dance in the rain" indicate that the speaker is coming to terms with his hardship.
Given the title "Fire in Your Soul," it is not surprising that this track is comparatively more upbeat. Still, very bluesy in the musical sense. The song "Goodbye" brings a categorical return to the world of solemnity and resignation. "I could see in your eyes that you're miles away." The way Dartnell can sing it, one sure believes the man.
[youtube huado32jBMw]
With such lines as "I fought for this land" and "these streets I keep walkin' are home to me," it appears that the track "Invisible Me" involves the plight of homeless veterans. More abstract, yet very poetic-sounding, are the "mansions of darkness" sung on "Shadowland"; by the way, either one of these could make a catchy title.
And here's where a possible critique arrives: though the album is plenty recommended, The Road Goes On might be a somewhat unsuitable title. The general mood is too much like a dead-end. Perhaps as much as any album one could encounter, this would make a great soundtrack to drink oneself to death to.
http://www.reverbnation.com/johndartnell
 
Ray Cavanaugh owleyesgatsby@yahoo.com