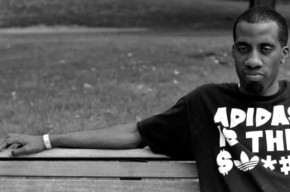 His real name is Eric Ward but most know him as Young Eze or Adidias Swag.   This young artist is originally from Milwaukee but he is currently attending Ball State University in Muncie, Indiana where much of his life consists of: "class, recording and performing music, work at the fitness facilities, joining a fraternity, partying every weekend, and women of course."   Eze loves Adidas and he loves basketball but most importantly this Wisconsin native is a music junkie!   Young Eze is eclectic to the bone as he puts his own spin on the rap scene in what his friend likes to refer to as "Bi-Polar Hip-Hop".      
 
J Rae: So your real name is Eric Ward but your stage name is Young Eze and I, along with the entire Skope Universe, would love to know how Young Eze came about?
Young Eze: It's actually really corny how I got it.   In my middle school art class, we were assigned to create a stamp of our nickname using an eraser. I gave myself the Easy E nickname, but it was impossible to create it on the small eraser I had.   So, my buddy at the time told me to spell it "E-Z-E".   It was pretty awesome at the time and it stuck with me ever since.
J Rae: I see that you lived in Milwaukee but that you are now attending Ball State in Muncie, Indiana.   What attracted you to Ball State and the Hoosier state?
Young Eze: I filled out an application to Ball State because it was free to apply and as an inside joke to annoy this girl in my high school, and a few months later, I received a letter granting me acceptance and an academic scholarship to attend.   A couple other places did also, but Ball State offered the most money.   Plus when I took a campus visit, I felt at home there.
J Rae: So how is college life treatin' you and any crazy stories you'd care to share with all of us?  
Young Eze:   College is treating me pretty well.   Not any stories I can get into to detail about, but I have been very active on campus whether its class, recording and performing music, work at the fitness facilities, joining a fraternity, partying every weekend, and women of course.  
http://www.youtube.com/adidasswag42
J Rae: I have to say that when it comes to your rapping style you definitely got that gift of gab along with a smooth, swaggy style.   Where does the inspiration come from to come up with tight rhymes?   And when did you get involved with music and rap/hip-hop in general?
Young Eze: Another corny answer, but I used to rap on my mp3 player back in 8th grade and quit for a while.   Then my senior year of high school, I wrote poetry for the girls in my grade, and thought I had a way with words.   So I started writing rhymes for a little while, and about January of 2011, a buddy named Tory Morrison, aka Young Rocks, addressed me at a party that he does rap music and would like me to record with him.   I began recording with him and he helped me put out my 'Petition Vol.1' mixtape back in May 2011.   I find inspiration through the life I live in, because every moment can be explained in lyrics whether it's hard times or good times.   I rap more good times than hard cause I know fun and upbeat would get the listeners going.
J Rae: Speaking in terms of swagger, it makes sense that I detected this within your style because I couldn't help but notice that you are also known as Adidas Swag.   So would you mind explaining the meaning behind that to all of the Skope readers out there?
Young Eze: 98% of the attire I wear is Adidas.   I would make that my artist name, but there would be copyright and patent issues.
J Rae: So it appears that you've got the swag and we now know that it's true that you're a huge fan of Adidas also!   I have to say that I'm a big fan myself as I have t-shirts & sport pants, sneakers, coat and a hat all with that famous logo attached.   You name it!   I've been wearing the Adidas gear for years myself and so I have to ask if you also have been sporting Adidas for a while now?   If so, what attracted you to the company itself and its products?   In the words of Run- D.M.C. all I have to say now is "My Adidas"!  
Young Eze: Hell yea man, I bump Run D.M.C. in my iPod! I just got a couple more Adidas jackets last week for my birthday.   I love the Adidas products and I'm constantly online looking at new designs coming out.   A lot of folks on campus know me as Adidas more than they know me as Eric.  
J Rae: So it seems that we have that in common but I also picked up on something else that we were both heavily involved with.   I read that you were into playing basketball at your local YMCA and I, in fact, spent most of my teen years and my twenties playing pick-up games at the Y here in Bloomington, Indiana.     Basketball and the Y were a big part of my life and so I have to ask what did this all mean to you personally? What I'm focusing on here is how basketball and the YMCA shaped you as a person and dyin' to know about your love for the game as well.
Young Eze: Well while growing up, I had big hoop dreams.   I had admirations to go play college ball and hopefully play professional ball somewhere.   So, every weekend I was at the Y getting shots and getting a work out if I didn't have a game or an AAU tournament.   Basketball gave me the competitive drive I possess when it comes to trying to be the best at everything I do including music.   It also developed my leadership skills, because I played point guard and running the show was something I had to get used to.   After years of doing such, it has become second nature to me.
J Rae: Going back to Run-D.M.C. I'm wondering if they were a big influence on you and your music?   And in terms of 80s rap/hip-hop would you say you're a fan and did this era of music have any impact on you personally?
Young Eze: Honestly, other than "My Adidas" and maybe one or two other songs, 80's rap didn't affect me at all.   Only, because I wasn't ever exposed to it growing up.   I grew up listening a lot of Ludacris, Eminem, Nas, and Jay-Z.   'Chicken and Beer', 'Red Light District', and 'Stillmatic' are a couple of my favorite CD's.
J Rae: I noticed that rap isn't just your forte but that you are actually into a lot of other types of music.   Would you mind discussing some of the other genres you enjoy and maybe even mention some artists?   Do you see yourself incorporating any of these styles into your own music?  
Young Eze: I'm glad you asked.   I am a music nerd.   I love all types of music man.   If you were around me for a day, all the songs I know and sing out loud would annoy you.   I listen to everything from Hip-Hop to pop, alternative rock, r&b soul, Christian, metal, dubstep, old school rock, etc.   I listen to artist/groups like Nickelback, Panic! At the Disco, Rihanna, Owl City, Drake, Kendrick Lamar, John Mayer, The Beatles, 2 Chainz, The Weeknd, Frank Ocean, Demi Lovato, Mercy Me, Timeflies Tuesday, Aerosmith, Nirvanna, etc.   I would love to work with all of these folks, but my dream collabs would be definitely with Demi Lovato, all the Young Money gang, 2 Chainz, KanYe, and definitely a joint with Nickelback.
J Rae: I read that you were really into writing poems in high schools and curious as to where that interest came from & is this still a big part of your life?   Did your initial interest in writing & poetry segue into music?
Young Eze: It definitely affected the way I write love songs, and songs about personal situations.   I don't write poetry any more, simply because I fell in love with making songs about it.
J Rae: I have to say that your latest single "Eyes on Me" featuring Angelo Van Terra off of the EP 'Never Better' is a hot track.   Would you like to talk more about "Eyes on Me" and the EP?  
Young Eze: Yeah, DMage Beats produced it and I fell in love with the beat with the first listen.   As I was writing, I could hear Angelo getting off on it.   Angelo engineered the song and as I was recording the song, he was bobbing his head, and saying "Yeah. This is gunna be a hit." He laid down his verse and added the beat as well, and made it a really sick track.   The EP is going to be released the week after Thanksgiving, and it has a mix of a bunch of different styles of hip-hop and music in general.   I have some songs where I'm singing; I got a few featured artists laying down verses, and a couple pop songs I'm dropping as well.   I'm trying to expand my skills and find my range. So, 'Never Better' is going to be very unpredictable and exciting.
J Rae: With the big election over and the whole Obama vs. Romney battle finally put to rest I'd first like to know if you voted?   And second, what do you have to say to all of the voters and non-voters out there?
Young Eze:   I am not political at all, but my parents would kill me if I didn't vote.   I think it is your civic duty to vote, and that you should take advantage of it.   The only reason I don't care for it as much, because politicians are awfully crooked and twisted.
J Rae: So I hear that you're working on new material as we speak and I am sure that the Skope audience would absolutely love to find out more about this!   What projects are you currently working on and do you play shows around campus when you're not studying of course?
Young Eze: I'm doing a few shows at house parties and bars around campus.   I haven't done my own show in a while, because I've been busy writing new material and getting everything recorded for the EP.   I just hit up Sam Mirpoorian from Indy, and he plans on coming down to Ball State to shoot a couple music videos for the EP.
J Rae: Last question I have is simply this: What does Eric Ward aka Adidas Swag aka Young Eze have to prove to not just himself and everyone around him but also to the world?
Young Eze: That there is nobody like me neither as a person nor as a musician.   There may be some artists you can compare me to, but I believe there isn't one artist you can say I am exactly like.   I only say that, because every rapper has a lane.   Every rapper has their own specific style of hip-hop that they make a living off of.   I want to create a style that no one can pin point my specific style of hip-hop.   With 'Never Better', I want listeners to listen to every song and think "What kind of rapper are you?" I want them to like it of course, but I also want everyone to be confused on what type of person I am.   My buddy described it as Bi-Polar Hip-Hop.   That's the only name I have to describe it.   No other artist is like me and I'm going to prove that to the world.
Young Eze has a truck load of potential with a lot to prove and I have to say that I am very excited for the evolution of the Adidas Swag man.   When he's not working hard and hittin' the books, Eric Ward is hittin' the clubs and livin' it up.   With a new EP on the way, Young Eze looks to be a big success in the music world and I would have to say that he is well on his way.  
For more info on this up-and-coming hip-hop artist SKOPE out:    
https://www.facebook.com/therealyoungeze.  
By Jimmy Rae