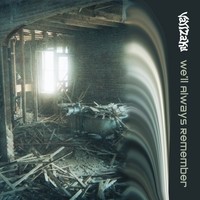 New Jersey 3 piece band Vayizaku just released their CD "We'll Always Remember" (2012). Band members include: Albert Kahn (vocals, Guitar, Piano) and Coray Selfert (Bass). This latest 13 song release is far from a self-indulgent ego trip, rather a moving and elegiac artistic statement from start to finish. This is not your overly predictable Ramon Noodle "Sing-Songy" Nikelback-esque Rock band. Instead this band could even be classed as a 3 genera band: Alternative Rock, Hard Rock and Heavy-Full Tilt Punk. Vayizaku has way too much precision and clarity to live in the shadows of overly-predictable Indie Power Pop. Indeed this is clearly evident in songs like "Radio Rabid" and "In the Year 2000" which methodically ups the ante to a very respectable level of catchy musical craftsmanship and addictive hard rocking melody that transcends pigeonholing. The music is also commercially viable with a fresh sound and a jagged edge that holds the attentions span of the listener perfectly. In a nutshell this is Green Day meets Good Charlotte meets The Killers meets The White Stripes. The 13 song line-up appeals to many listeners with a wide variety of musical styles — but it packs a powerful punch with a passionate yet powerful voice for all the rockers out there who want something more than Nikelback, Daughtry or Lifeshouse. My Top Track goes out to the title track.
URL – http://www.vayizaku.com/
Conclusion: I would imagine in time we will hear more from this band in the near future. No doubt Vayizaku has carved a marketable niche for themselves thus far setting them up for marketable success down the road. But for now I can honestly say this is one band that clearly gives you a musical snapshot that is highly original, unique and dare I say dangerous and chaotic in scope. What else can I say? Rock n' Roll is still alive and kicking this Summer.
http://www.youtube.com/watch?v=avJUTWAyb7U
Michael Rand edited by Cyrus Rhodes
Review comments — therandbrand@gmail.com