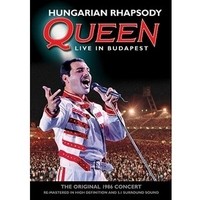 Queen is acknowledged as one of the greatest all-time live rock acts.   Even the reincarnation tour with Paul Rodgers was a great event.   The title is of course a clever play on the compositions of Hungarian composer Franz Liszt.   At the time of this 1986 concert performed in Budapest, Hungary, a record setting 80,000 fans were in attendance.   It has been re-mastered in HD and 5:1 Surround Sound.   The release will be available in various versions (DVD, Blu-Ray), including a Deluxe Edition package with the DVD (with a 25 minute documentary "A Magic Year"), two CD's, and a booklet.  
The DVD grabs your attention during the opening aerial shots of the city, the various stages of the stadium stage construction and the eventual crowd filling the seats.   The 23 song DVD including their traditional Brian May guitar solo, and the God Save The Queen closing anthem.   One treat is a cover of Tutti Frutti that goes from acoustic to full-scale rock. There are also interesting inserts like the band hanging out and go-cart racing.   The "A Magic Year" documentary is well done and covers a lot of Queen lore, including their involvement with the film Highlander.   As with any Queen set list, you're hard pressed to find one or two songs you're not completely thrilled with, and love the rest.   The band was always tight with the vocals and harmonies spot on, and still remain one of the best.   Freddie is of course a fashion statement, donning the crown and cape during the closing anthem.  
The sound and visuals are some of the best reconstructions I've seen in a while.   It's extremely hard to capture an elaborate stage and lighting show during the original performance, specifically when the filming, recording, and editing technology didn't exist at the time.  
Eagle Rock Entertainment does a great job of putting together classic rock, jazz, and other rare concert footage with enhanced video and sound qualities.   Good stuff, and released just in time for gift giving!
By R.M. Engelman