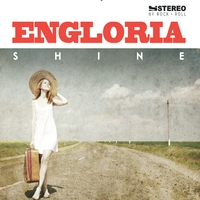 If you take the vocal delivery of Oasis and the jangle guitar of The Connells, you have two of the driving facets behind New York's Engloria. Following up on last years EP, their debut full-length, Shine is an 11-track collection of guitar driven tunes with nuances of standard Rock, Brit-style Pop and occasional Alt-Country leanings.
http://www.youtube.com/user/engloriamusic
Again, it is the jangle guitar that hallmarks tracks the likes of title track "Shine", "Where You Are" and "Melrose" and the versatility of its utilization that keeps the sound from bleeding from one track to the next. In "Shine" it is the riff work that bolsters Stewart's upper octave vocals that certainly channels Liam Gallagher. "Where You Are" features the jangle effect as opening melodic picking, which eventually gives way to what could easily be the backing musicality on a Paul Westerberg track. "Melrose" opens with urgent vocals and more riff jangle. The arrangement of this one is what really shines (no pun intended) with the intermittent void of backing musicality allowing the vocals the carry the track from verse to chorus. Dirge-like piano opens the down tempo "What Do You Say." The ominous piano chimes meld with backing electric fills and slight effect vocals to create the appropriate album "valley" to the "peak" tracks that precede it. Slight Alt Country appears in nuance on "Come Around" with its mid-tempo groove feel and on "Little Darlin'" with its bent note Blues riff work in the opening and body of the track fills. The agro pace of this one creates a nice balance of Pop Rock meets Ryan Adams' at his most upbeat.
After repeated listens, what comes to the forefront is that there is a lot going on here. There are facets of myriad styles, genres and artists present and with many bands that tend to trail off into countless directions, one gets the impression of a "ship without a sail." Not so on Shine. The facets here not only coexist; but actually mingle well within the ethos of the songs and the album as a whole. Perhaps it is the upper range octave of Stewart's voice, but my only criticism would be that the tracks sounded really "tinny" almost "metallic" as if the highs were turned way, way up (Although, it could have been the particular digital tracks I received). That being said, with the amount of music this trio makes and what they do with it, they are certainly shining on this one.
www.engloria.com
 
by Chris West – cwestlaz@gmail.com