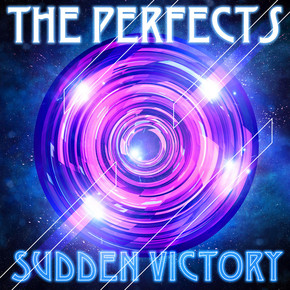 Imagine if 80's pop stars Duran Duran and The Killers had a Freaky Friday moment, it just might be what The Perfects had in mind when creating their ultimate brand of new wave pop meets indie rock sensationalism. It's undeniably catchy and full of the energy you'd expect from a band weilding such a weight name. Introducing The Perfects.
DiGDuGDisaster: First off, what's with the name? It seems it would be hard to live up to the perceived expectations? Was that planned?
The Perfects: I wrote a few band name ideas down and that one really stuck out. I googled The Perfects and did not find any band with that name or website domain. Certainly the band does not consider itself "perfect" and it was more like "hey that's a name people will remember" so I went with it.
DiGDuGDisaster: Your sound proudly wears the 80's new wave pop sound on your collective sleeves. What did the 80's mean to you?
The Perfects: The beginning of true modern culture who's imprint is still felt today. Even though a lot of technology existed and predated the 80s it was not until the 80s that most of it came to fore front of every day life. From video games, to music videos to watching movies at home on a big screen TV. It's crazy to think of it in those terms but the 80s really did accelerate and fast track modern technology which certainly can be felt by the music from that era.
DiGDuGDisaster: How would you define your sound to someone who never heard of The Perfects?
The Perfects: New Wave Rock and Roll.
DiGDuGDisaster: You have a new album coming out Sudden Victory, can you tell us anything unusual about it?
The Perfects: James White known to the artistic world as Signalnoise who has done work for Daft Punk is directly responsible for the artwork even though he did not design it! The original piece he designed was in collaboration with artist Francis Hoang and I really fell in love with that piece. When I reached out to inquire about a license for the artwork it was tied up in some legal loopholes. James and his management at Mysterybox however gave me permission to recreate the piece and list James and Francis as the original artist behind the inspired idea. Very grateful with how that turned out because it's rare to see that unfold the way it did.
The Perfects "Sudden Victory"
http://k006.kiwi6.com/hotlink/m50r684j94/sudden_victory_by_the_perfects.mp3
DiGDuGDisaster: You've recently received an endorsement from Ernie Ball guitar strings [a personal fave of mine]. How did that come about?
The Perfects: Emailed the company requesting it the endorsement. They were satisfied with the current momentum and said welcome aboard!
DiGDuGDisaster: Who are some current artists you listen to or would admit to being an influence on your sound?
The Perfects: Currently I have been listening to the new Killers album, and I love Ladytron. In terms of modern influence, not much. I really do listen to a lot of music from the 80s. Recently I have been on a massive Cult kick. But my main staples are The Cure, Depeche Mode, The Smiths, New Order, Duran Duran and AC/DC!
DiGDuGDisaster: Who writes the songs? Are they collective or is there a 'leader'?
The Perfects: That would be myself [singer Ric Peters], and I initiate all the ideas and write the majority of the music. The title track however was written collectively as a band and it's an area I want to explore more because of how well that song turned out. That was the final song written for the album.
DiGDuGDisaster: You were recently asked to play the Dew Tour, how did that go? What are your tour plans once Sudden Victory comes out?
The Perfects: Was great! That was a massive event. We plan to hit the road and are working on that right now. Just has to be the right tour that makes sense because of the type of live show that we do. We just do not get up on stage and play our songs. We have a pretty intense light show and want to make sure that's able to be included while on tour. Look for a live album/Bluray/DVD very soon along with our music video for our version of U2's "With or Without You" which will show everyone exactly what I am talking about. We create an experience not just give a performance.
DiGDuGDisaster: Any advice for kids who want to become famous rock-n-roll stars?
The Perfects: Keep your feet on the ground and keep reaching for the stars….. anyone that knows that reference will have just laughed. Anyone who does not know what I am talking about will think I am a jackass lol. In all seriousness that's a much deeper convo but the short version is, hone your sound. Have a plan of action. Look at what other successful bands who are DIY are doing in the 21st century music business. Never give up if you are passionate about your music.
Make sure to check out The Perfects website @ http://theperfects.com and pick up their new release Sudden Victory, you won't be sorry!
Douglas Garnett – douglas.garnett@gmail.com – http://digdugdisaster.com