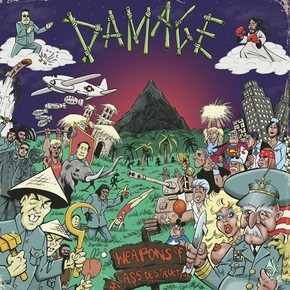 Damage is releasing a video for the track "Keeping it Wild" taken from the album "Weapons of Mass Destruction" that will be released November 1st on Gaphals. Border music will distribute the album in the Nordic countries.
[youtube GniN3mZE6Zg]
The album is already being raised to the skies by numerous reviewers and with the release coming up this video gives you a visualization of what to expect. The video is a cartoon by Johan Malm and gives us a presentation of all Damage band members, past and present. The past members being in the form of demons. Damage – "Weapons of Mass Destruction" is the third album in the Gaphals serie with 45rpm Hardcorepunk 12″. The Serie have previously contained 12″s with Din Skevf and Red Doves and December the 20th a fourth release with Pusrad.