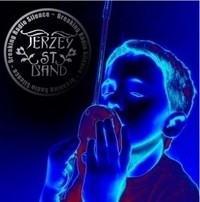 The seven piece English group has made their ambition a modified country rock based genre, complete with a pedal steel player.   It's easy to tell their influences when listening.   You can hear a mixed bag of folk, country, a touch of rock ala Dylan, The Boss, Alabama etc.     Lead singer and guitarist (and writer of all of the songs) Dave Wrobel has a good country voice, minus the overused twang and hiccups.  
[youtube nj08TlKf8dk]
Although the entire disc sounds country, there aren't any foot stomping rockers or fiddle-laden songs here.   Pale Blue River is a slow paced song, done in an E Street Band style.   Reason To Speak is moderately paced with an added touch of harp.   Mersey Angel is a really good southern sounding ballad, with a current country vibe and prominent pedal steel.   Give The Rivers Back To The Rain is also a nice acoustic guitar led ballad.   Rebels follows the scenario with some B3 action.   Holly Grove continues with the organ base, and has a nice flow and tempo.   Wasting Time is the track that has really has a gospel feel to it.  
There are some interesting lyrics here, and of course some mandatory, prerequisite country style relationship ties.   Dave has an easy to listen to voice, that fits into the mainstream country fare.   The band does a good job of supplying a complete, but not overbearing sound.   This UK group could appear with any domestic country act, and come off as being home grown.   Remember Wild Cherry originally opening for predominately soul acts?   Surprise!  
By RME