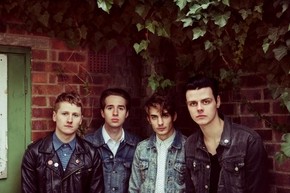 UK band Sharks today revealed a new music video for "Luck" from their debut   full length album, No Gods, which was released last March via Rise Records. The video was shot in Northampton and directed by Ryan Macktfall.
[youtube yTeXWgTIx3M]
Said the band's James Mattock, "The video for Luck was shot in Northampton at my friend's art studio where I currently reside with my fiancée. It's an old victorian factory building, and with all the space and the taxidermy on the walls, it just made for an irresistible location to shoot a video. It also ties in with Sharks' history as Aasen Stephenson (deathhouse), who works here, did a lot of artwork for our records in the past.
https://itunes.apple.com/us/album/no-gods/id507860238
The concept for the video is the most simple and direct idea we've had, but the actual process of filming was extremely difficult. The studio is above a funeral home, and since we filmed through the hours of midnight to 4am, within the first or second take the police were banging down the door and were having shut the whole thing down. Subsequently, Sam had to play the drums without practically making any noise, and with having to mime along to the track and everything, he did a good job. The projections on the walls are just a couple of movies I love including 'The Man Who Laughs' and a personal favourite, 'The Penalty'. Neither of which bared any particular relevance to the song. The video was made by our good buddy, Ryan Mackfall."