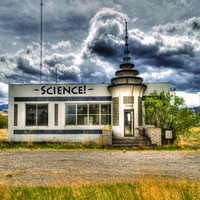 Having known each other since their childhoods in New York, Justin Stang and Jim Elenteny find themselves thousands of miles from home and reunited as the two-man outfit, Science! The move and collaboration has rendered their first self-titled EP–7-tracks of guitar driven rock that ebbs and flows between Country-tinged riff work to bent note Blues to straightforward Indie.
The album blasts out of the gates with the slightly Country fried "Seattle Song." The autobiographical lyrical matter weaves a path through the nuances of city living with mentions of ubiquitous Seattle facets such as sports teams, the weather and indigenous companies. The track opens to intricate finger picking and acoustic strums in tandem over agro paced backing percussion supplied by Blind Melon's Glen Graham. "You and Rachel" slows the pace to down tempo and opening Blues riffs. This one plods along with Stang's gruff vocal delivery and Elenteny providing more meticulous electric work. "Chains" rounds out the breadth of the album with pop sensibility that sounds like it could have been a B-side Guster track. The radio friendly melody belies the lyrical matter of distraught protagonist wronged by the legal system. Like the tracks prior, this one shares tight guitar work and strong musicality.
Stang and Elenteny have laid a solid foundation of original tunes with Science! The guitar-led vein of the tracks through multiple genres, illustrates the scope of musicality available to the pair while the lyrical matter shows an awareness of the current human condition. Perhaps what is most surprising is the sheer amount of music created by a two-man outfit, with all seven-tracks sounding full and complete. I hope the EP achieves the success I feel it is going to so these two can get to work on a full-length sooner than later.        
http://scienceseattle.bandcamp.com/album/science
Christopher West – cwestlaz@gmail.com
[Rating: 4/5]