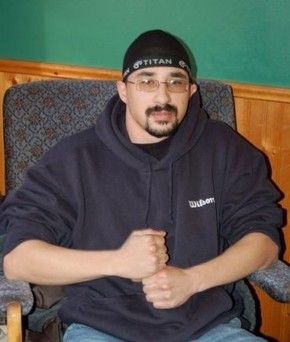 Big things are happening in Nova Scotia, from Juno sensation Ellen Page to hip hop entrepreneur Herb. You just never know what might come next from this wonderfully weird Ontario Island.
digdugdisaster: Herb, as a rapper from Nova Scotia, what influenced you to get involved in that sort of music?
Herb: Just love of the hip hop music music in general. There are a few people doing hip hop from the community. I saw it as an oppurtunity to work at what enjoyed.
dug: You were an army brat, your family moving all across Canada throughout your life. How did that affect your relationships with others? Did you find it harder to connect with people and is that what drove you into music?
Herb: Moving basically tought me that people young and old, come and go.Relationships  I mean, friends etc. all come and go. It gave me valuble social skills in terms of interacting with people.how to get along. there   was always music on when  I grew up, thats probably the main reason.
dug: Tell us a little about the Community Business Development Corporation and how they've helped you start your career?
Herb: The cbdc helped with getting me started with a small business loan 3000$ or so which i used for promotion of my first album Herb: upstreet gangsta vol.1
dug: So CBDC helped fund some equipment, so tell us about your homestudio setup. What kind of gear are you using? Also, do you consider yourself to be a producer too now?
Herb: As far as my home studio  I have a motif6, alesis near field monitors (prolinear 720 dsp), got a little mixer with phantom power, a rode nt 2000 microphone , and an alesis master link for mastering audio.but yeah ive been producing my stuff for 10+ years now.
[youtube 9xk7-dltazE]
dug: As MySpace goes, you seem to be getting some plays still, though most consider MS to be a ghosttown as artists have migrated to ReverbNation and FaceBook. Do you think MySpace is still a legitimate and viable site to get discovered as an artist?
Herb: Myspace is probably less viable in terms of getting started now, facebooks big, the net changes fairly quick. Youtube is another site thats gaining steam.
dug: Tell us about your double-album "Material"?
Herb: The material album is a double album of my newest stuff 26 songs, 2 discs.im going to put it up on youtube, its laid back with me on production.
dug: It said in an article that you have so far recorded 298 songs, which is quite alot. Do you have any plans on releasing them to the public?
Herb: Yeah, i'm closing on 300 songs got 2 more to go, i do plan on releasing alot more.
dug: So what's next for Herb? What can we expect to hear about you in the coming year?
Herb: Like  I say just releasing other singles from the "material" album.
Herb is an artist always on the move and getting ready to do it big! To read more about Herb, please check out…http://sonicbids.com/herb
By: Douglas Garnett – douglas.garnett@gmail.com – http://digdugdisaster.com