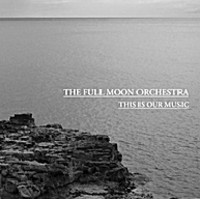 About the Artist: This is the latest release from Belgium based 4 piece Band "Full Moon Orchestra" entitled This is our music (2012).
Musical styles presented: Pop elements with Classic Rock, Alternative Rock, and Americana-Folk.
Review: What does a band like Crosby, Stills Nash, Neil Young and America have that Full Moon Orchestra don't have? Not much if you ask me save the multi million dollar promotional machines and major record label support. In this overly saturated genera/market a plethora of artists coming out of the woodwork, armed with nothing more than a PC, a Microphone, a guitar and substandard CD. These artists manage push their music out to the world and much of it is to do about nothing: substandard to say the least. Full Moon Orchestra breaks this mundane mold by delivering 10 amazing tracks.   It defiantly has a unique Indie-Rock swagger to it with a deep seeded Classic Rock, Acoustical-Jazz aftertaste. That's a wide musical latitude to cover. Musical overtones that will remind you of popular acoustic pop of the early 70's like Neil Young, Cosby, Stills and Nash, and Firefall. On the other end of the sonic spectrum I can even hear a Jazz-Fusion influences like John McLaughlin and Paul Simon. All in all a well rounded CD that has much to offer the listener.
Official URL – http://www.fullmoonorchestra.com/
Top 3 tracks "Sunkawakan", "Sequoia", "Let Go" and "Sanza."
Criticism: None
Song Samples from the CD: Song samples from THE BARRENS debut album available on CD-BABY — http://www.cdbaby.com/cd/thefullmoonorchestra
Conclusion: Full Moon Orchestra stands out from other Indie-Alt Bands within this saturated market. Their answer to mundane music is to deliver something unique with a unique signature sound to call their own. The strong suit of Full moon Orchestra is their diversity, passion, solid musicianship and highly entertaining melodies. One would be wise to keep a watchful eye on them over the years to come.
Rory Richardson edited by Drew Blackwell
[Rating: 4/5]