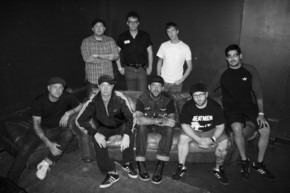 Time to raise up your arms with frosty drink in hand and say CHEERS to Murder The Stout!   The Houston-based band plays a fresh mix of Celtic rock with elements of punk, ska and folk that will definitely spark your interests.   With Scottish roots, this lively bunch of musicians is sure to entertain the crowd no matter what!   I appreciate the energy that Murder The Stout is bringin' to the table and I hope you do too!  
 
J Rae: First I gotta know how you came up with the name Murder The Stout? Also, curious to know if you actually do like a good, stout beer and if so what is your favorite brand and any brews you would recommend?
MTS: There is an old saying from back home in Scotland when you are really thirsty & dying for a beer, you'd say "I'd murder a stout".   We had other suggestions too but Murder the Stout seemed pretty catchy! As for a good brew, yes we do indeed have been known to rack up a fair bar tab! Guinness is a band favorite, although personally I'm more of a lager guy, Sam Adams for me. When back in Scotland it has to be Tennants Lager!  
J Rae: Next, I saw that the band formed in 2004 and I'm sure the Skope audience would love to know how Murder The Stout originally came about?
MTS: In a pretty predicable manner, most of us had played   in previous bands but Gerard & Neil had the idea to try something new which appealed to me.   All of us came from really different musical backgrounds. I'd played Ceilidh (kay-lee) music for dancing in Scotland but was always a huge Pogues fan. Gerard, from Ireland was more Planxty, Christy Moore influenced. Neil was the punk rocker. Our original bass player, Berkley & drummer Jonathan were Country music enthusiasts, having played in college bands around Huntsville, College Station area. So we had a fair old mix at the beginning. Our idea was to take the traditional Celtic songs & notch them up a bit, not a new idea by any means but we wanted to put our own slant on the tunes, no screaming metal guitars drowning the authentic   sound we were getting through the squeezebox, whistle & acoustic guitar. We had only planned to be a St. Patrick's Day band but there you go…..
[youtube 47u4IzscZ3g]
J Rae: You guys play Celtic Rock with elements of punk, folk and ska and I have to say that I love the spirit of the music.   The songs make you wanna raise your drinking glass and just have a bloody good time!     I have to think that Murder The Stout shows are fun 'n' lively events and so can you take us through what a live performance would be like?
MTS: First & foremost we always try to involve the audience. They are the folks who spend their hard earned money coming to see us so we try to include them, be it in a sing-a-long or getting some folks up on stage,   or some of us will get down there amongst them, anything goes but we're always aware to include & appreciate them. We used to do the 4 hour pub gigs but that got "long in the tooth" pretty quick & found we got much more satisfaction from a 45 minute blast of Stout.   Also, always we are aware to leave nothing behind on every performance we do, if I'm not sweating buckets when I leave the stage then something is wrong!
J Rae: When performing live do you prefer a rowdy audience or more of a low-key atmosphere or maybe a little of both?   And going off of that how would your band react to both situations?
MTS:   Of course the rowdy suits us better due to the nature of our music and we feed off that energy too but we are equally at home playing a sit down acoustic set.   It's funny, because we've done all sorts of gigs & our fans range from the very young to the very old. In fact our "blue-haired brigade" following has become quite substantial.
J Rae: I see that Murder The Stout's front man Hugh Morrison is originally from Scotland and so Hugh I would love to know what brought you and Murder The Stout to Houston, Texas?   I would also love to hear from Hugh Morrison on what life was like in Scotland and is that where you initially caught the music bug?   And curious if any other members in the group have ties/roots to Scotland?
MTS: Well to set the record straight, Gerard was our original frontman & I only stepped up to the plate after he was "kidnapped" to Washington State a few years back. As for me I came to the States to work in the oil industry. I still do but I'm playing music & touring more these days. I'd class myself as a musician and part time oil worker.   As I said earlier I played in Ceilidh bands back in Scotland, funny thing is I never stood up while performing until I came over here & I haven't sat down since!                                      
Life in Scotland was getting tough, I'm from the Highlands & growing up there was an abundance of local oil fabrication yards which had the local economy thriving. All my friends went to work there so I did too. Once the yards started closing thousands of people were out of work and there was an exodus of young talented workers. I got the chance to come to Houston and it's been home ever since. Scotland has picked up recently though. There is a real positive vibe on renewable energies, tourism is soaring but the main focus seems to be on the drums of independence that are beating stronger than ever. Our only tie to other countries is Gerard; he's from County Wexford, Ireland. Although no longer a full-time member he does tour with us as manager and makes the odd cameo appearance with his flute! Other than that Murder the Stout is primarily a Texas band, with the guys coming from all over the Lone Star State.
J Rae: Now talking about Houston where you guys currently reside I am dying to know what the music scene is like down in Texas?   And how does Murder The Stout and its sound fit into the whole mix of the Lone Star State?
MTS: At first we probably weren't taken too serious as we weren't really taking it too serious ourselves, we were just playing local pubs and such. Now we are touring & producing (hopefully) quality original recorded materials so folks are starting to take note.   It took a while to be recognized, even by the local press but our nominations this year for Best Folk & Best EP/CD/LP shows we're moving in the right direction. As you probably know Country music is huge down here but there is a significant Celtic scene and a punk scene. We're happy to play with any band from any genre, one of our favorites is a Mexican Ska band called Los Skarnales. They are great guys who are fantastic musicians & always fun to share the stage with.
J Rae: So I see that you have had some changes in your line-up over the years and wondering how the current Murder The Stout roster is stacking up?
MTS: Changes are inevitable in any band & off course we've had our fair share. Currently though we perform as anywhere between a 5 piece & 8 piece band. Some members are also in the Street Dogs who are a punk rock band originally from Boston.  
Here's how you would find the full band lining up:
Hugh Morrison — Lead vocals, squeezebox,   Kevin Murphy — Electric Guitar,   Neil DuFour — Acoustic Guitar,   Johnny Rioux — Mandolin, upright bass,   David Schaefer – Whistles,   Marcus Hollar – Banjo,   Jason Bancroft – Bass, Pete Sosa – Drums
J Rae: Do you guys hang out outside of playing together and if so what is usually on the agenda?
MTS: Yes, usually to go & see shows.
J Rae: I noticed that your band released a 7-track EP in Dec 2011 and now you are working on your second full-length studio album, which all sounds very exciting for MTS!   Are you able to supply any new information involving Murder The Stout's upcoming release?
MTS: Hoping to get moving on it here in the very near future, our producer is due back from Europe at the end of July.   Songs are written & ready, maybe some tweaking on the arrangements but we'll be ranging from old time ballads all the way to gypsy punk!
J Rae: With tours in the works and shows booked for Murder The Stout in 2012 what do you have to say to all of the Skope readers out there?
MTS: Thanks for reading this far in the interview lol! If you get the chance please come to a show. Usually we try to play with local bands in whatever city we're in. Supporting local music is very important to us. To finish, as we usually say……drink up, sing up and we'll see you soon!
For more on Murder The Stout SKOPE out: www.murderthestout.com & www.reverbnation.com/murderthestout.  
By Jimmy Rae (jrae@skopemag.com)