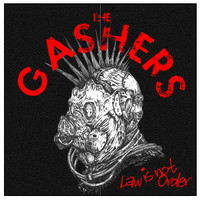 About the Artist: This is The Gashers debut release entitled Law is not Order released in 2012 (Squidhat Records). Band was formed from elements of the local Punk Rock Band The Peccadilloes based out of Las Vegas as well. Band member include Jason (Guitar, Vocals), Sandy (Drums, vocals), James (Bass and Vocals).
Review: Law is not Order is one release that certainly doesn't disappoint. This is one Punk band that brings to the table effective songwriting via a highly explosive sound and live show. This meshed with a one in a million garage-Indy persona and effective visuals and vocals makes for a very effective combination no doubt. Lead Singers Jason and Sandy provide the vocal front and dish out aggressive sounds that will remind you of The Toadies, Green Day and 4 Non Blondes but skillfully and methodically never cross the line into the Alternative Rock. Nope this is Punk all the way . All songs are wonderfully simple but masterful in their overall arrangements. Music reminded me of a cross between Social Distortion and Veruca Salt but their signature sound is unique beyond comparison. This CD is quite entertaining overall with this amazing vocal dynamic duo and hot to the touch playing from Bassist James. Both Sandy and Jason are an amazing vocal team and possess raw sex appeal as well (visually and vocally). The lyrical content is straight from out of a riot and The Gasher offers a very strong and confident perspective and spirit via their music. All song do exactly what they are supposed to do: get in your grill via well-crafted movements and high adrenalin musicianship. The overall production value is rock solid with a nitty gritty sound that cuts your ears like a jagged edge – almost as if you were watching a live performance.
Top Tracks: Tool, Panic, Occupy
Criticism: CD tends to be a tad bit repetitive overall.
MUSIC can be through SQUIDHAT RECORDS:
http://squidhat.bigcartel.com/artist/the-gashers
http://www.reverbnation.com/thegashers
Conclusion: The Gashers have proven themselves with this latest release. They are clearly an up and coming Punk Rock talent around Las Vegas area and all band members are clearly capable punk Rock musicians. I must admit Law is not Order sucked me in like a powerful drug and refused to let go long after the CD was over. This usually indicates he is something special about the artist or band in question. Thus deserving praise, recognition and musical fame at the international level.
Written by Drew Blackwell edited by Rory Richardson
[Rating: 3.5/5]