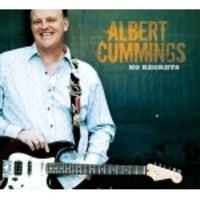 Albert follows a long line of bluesmen, intent on delivering their version of the genre.   This is his sixth release, and it reflects his country listening background through his high school discovery of SRV.   Having written the material (with the exception of Mannish Boy) AC seems to have sufficient background to deal with and tell the stories of relationships gone wrong/not going right, and also a passion for driving.  
Glass House is a nice tune that has a sort of Joe Bonamassa delivery to it.   Eye To Eye is a slowed down track with an adequate touch of B3.   Checkered Flag is a faster song that addresses the need for speed.   Your Day Will Come, She's So Tired, and Where You Belong are smoothly done ballads, the latter two being my favorite cuts on the release.   The much-covered Bo Didley tune Mannish Boy receives good treatment here.   Drink Party And Dance is a self-explanatory fast paced shuffle.  
AC has unlocked the mystery that a Strat, a Fender tube amp, and mainly clean tone (his banjo picking ability is also a plus) are the driving forces behind the blues.   Also by eliminating over-production, AC focuses his effort on letting his voice and axe combine to be the main event.   He has a confident sounding voice that helps get his message across effectively.   The effective non-overbearing use of his guitar licks makes this effort nice listening.  
Most of the blues releases I listen to are for the most part boring.   This one is fun to listen to, with the lyrics sticking to storytelling and not preaching.   AC seems to be going down the road paved by artists like Joe Bonamassa, where the blues can be relayed with something fresh, letting your talent speak for itself, which is always a good thing!
By R.M. Engelman
[Rating: 3/5]