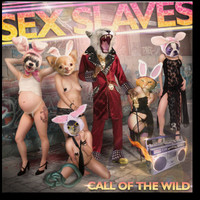 About the Artist: Deep from the depths of the New York arises the 4 headed beast known as Sex Slaves who just released their fourth album entitled "Call of the Wild" in 2012.
Review: I always listen to the opening track extremely carefully. It's the opening track the band or artists has selected to hit your ears first and foremost. Let's just say the opening track "W.T.D.R.U." set the stage rather well for this CD. It was a great intro piece that stuck in my head and had me eager for what lied ahead. All in all the whole CD is brilliantly delivered with a powerful Hard Rock, guitar driven sound with songs that hit hard and has serious staying power. Music will remind you of typical bad boy bands Saliva, Seether, Puddle of Mud. To be honest I can't say enough about this bands overall signature sound. Their bio describes it best: 'Sex Slaves are a living, breathing war machine. They have independently performed over 1,000 live shows in 13 countries, and counting…all without a major label's tour support dollars, or corporate sponsorship." Every song is real, not so overly- corporate sounding.   Sex Slaves have a sound that favors the late 90's Alternative Rock movement but with a modern rock feel. They will also remind me of a variety of bands from the early 80's in the hey day of the Hard Rock movement like the Motley Crue and Dangerous Toys. I've never heard a new band sound so fresh. In other words Rock n Roll and Punk need more bands like Sex Slaves immediately. Indeed Sex Slaves represent a fresh new voice in modern rock   and present a strong message that's aggressive, powerful and personifies Sex, Drugs, and Rock n' Roll. "Call of the Wild" manages to capture lighting in a bottle and is very loud, in your face musical statement. They may have a new sound but the true Rock n' Roll spirit will always remain the same.
 
URL: http://www.sexslavesnyc.com/bio/
Top Tracks: Lose the Dress, W.T.F.R.U., I Wanna' Kill You.
Song samples:
http://soundcloud.com/sexslavesnyc/sets/call-of-the-wild-epk/
Conclusion: If there was one word I would use to describe Sex Slaves it would be attitude.   This CD will simply make you want to start some kind of a riot, or go out and start a revolution of your own. In close Sex Slaves deliver the goods — in so many different and unique ways and proves old school Rock n Roll is still alive and licking.  
By Mindy McCall edited by Rory Richardson
[Rating: 4.5/5]