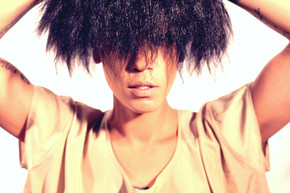 Brooklyn based artist Imani Coppola is leaving her pop persona Little Jackie
behind to return to the more urgent indie hip hop persona with the release of Glass Wall a new album produced by Josh Valleau.
"SAY HELLO" – Computer & Human
[youtube zXyOnRBPVdk] [youtube HN0x5ImqaaE]
Imani has a storied body of work, from her debut album, Chupacabra, produced by Columbia Records in 1997, through to the Black & White Album from Ipecac Recordings in 2007, Ms. Coppola's genre-defying lay-it-bare lyrics invite listeners to seize life and love in all their complicated grandeur. The Globe and Mail called her last solo effort,   Black & White a "brutally honest album that's fun to hear," an assessment that carries through as well to Ms. Coppola's work as part of the pop duo Little Jackie where her laugh-out-loud lyrics set to Adam Pallin's programmed tracks on albums from The Stoop release in 2008 through to the Made4TV release in 2011 attracted great interest from film and TV studios.
The new disc will be released by Bandcamp and out in physical form July 31st, followed by an iTunes release Nov. 6. In a nod to the necessity of real-time connection, Ms. Coppola has announced plans to put a band together for her next album release.