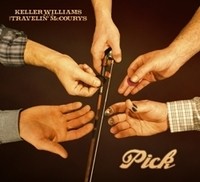 For Keller's 18th album appropriately title Pick, singer/songwriter (and player of just about every stringed instrument he can find) he has joined forces with Nashville's beloved bluegrass family The Travelin' McCourys.   The release was recorded at Music City's famed Butcher Shoppe studios.   Needless to say, the release relies on a lot of fiddle wrangling and banjo picking.   No needless keyboards or string sections to be found here.  
Something Else Is a quick paced pickin' & grinnin' cut.   American Car is a barely slower piece, reminiscent of both the delivery and vocal styling of the legendary Pure Prairie League.   Messed Up Just Right brings to mind The Kingston Trio, and has a neat banjo solo mixed in.   Mullet Cut has a lyrically funny redneck vibe, worthy of any country music, with some great musical quirks.   I Am Elvis is a quirky thing, dealing with crazy imaginary things left yet to do.   What A Waste sounds like something Johnny Bond would have tackled lyrically and musically in his prime complete with a jaw's harp twanged in (or whatever you call it).   Broken Convertible is pretty cool, but I hate to say it, the chord progression conjures up Homer Simpson's haunting tattoo from his youth, the one hit wonders, Starlight Vocal Band!  
Price Tag is a ballad of sorts, dealing with greed and smugness, and I think the best cut here.   Sexual Harassment starts off with an accent-laden intro, and is a clever tongue-in-cheek social commentary.   Bumper Sticker deals with, yeah, you guessed it!  
The style of this release is basically bluegrass, with some blues touches here and there, and country western style lyrics.     The harmonies are historically typical, and work well.   This is definitely unique, and if you like banjo/fiddle, and bluegrass here it is.   The lyrics are clever and the playing and delivery is top notch.  
By R.M. Engelman
[Rating: 3/5]