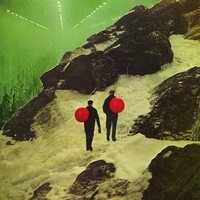 "The Barrens" (2012) is their latest release and it has much to commend it. Admittedly, there is a whole lot of variety to these arrangements and performances. First: the impressive 5 piece line up featuring. Colin Fitzgerald (Vocals, Guitar, Bass), Debbie Chou (Vocals, Keyboard), Mike Koene (Guitar, Vocals) and Chris Gersbeck (Drums, Vocals. Jay Sharp (Bass). This unit hails from New York and ddeliver rock solid playing and impressive songwriting skills. This is testament to hundreds of hours of rehearsal time no doubt. Second: dual vocalist Colin Fitzgerald and Debbie Chou mix things up very well. Both have the typical attributes needed of an effective musical instrument front (visuals and vocals). Third: their sound is a amazing combination of modern rock yet with a slight Psychedelic-Alternative Rock aftertaste that will remind you of music popular in the late 80's and 90's. This band has the creativity and songwriting prowess to be extremely dangerous. There is also a unique quality to this catalogue that breaks the mold when compared to the mundane pop-rock that's been filling the airwaves lately. The Barrens have a very unique sound and will remind you of Arcade Fire, Pink Floyd, Porcupine Tree and MGMT. Not every square inch is filled with musical ambience delivered under duress — but musical space this allows the music to breathe on its own. My top tracks are "Bottom of the Well, "Yellow Cigarette", and Leave of Absence." Equally as impressive is how marketable this catalogue truly is. I always said if you can play it a party, then it's marketable. The music is extremely mysterious with a fresh sound that is simply very suspenseful very much like the band itself. All 11 tracks will genuinely lift your spirits unlike most music you hear on the radio these days.
I'm not a fan of the 2 singer line-up. If I had my way I would let Chou handle all the vocals.
"The Barrens" have everything. It's an endearing album limited by nothing. I would imagine in time we will hear more from this unit from New York as the year unfolds. Time will tell but I can honestly say this is one band set up for success down the road with their highly original musical personality and fresh sound that gives modern music a well needed wake up call.  
Songs from "The Barrens" can be sampled @ @ MY SPACE
http://www.myspace.com/thebarrens
Written by Heather Savage edited by Rory Richardson