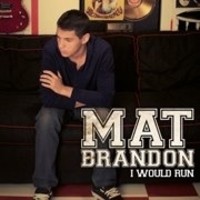 I like to think that I know talent when I hear it and I have to say that Mat Brandon has got that "IT" factor.   Music has been running through Mat's blood since he was a kid where he started on classical and jazz piano at the very young age of five.   Mat Brandon is now just 19 years young yet he sounds like a pro already!   Brandon's latest EP 'I Would Run' impressed the hell out of me!
Mat hails from Long Island, NY and besides being a singer/songwriter/guitarist/pianist he is also studying literature at Hofstra University.   This up-and-coming artist has got so much potential in terms of being a successful musician and I have to say that I am personally very excited toward the future of this young man!   This five-track EP is radio-friendly all the way as the genre would be considered 100% Pop/Rock.     The music and the style on 'I Would Run' is extremely catchy to the point where you just might find yourself singing & humming along to certain songs.   One such song would be the title track where I just could not get this one out of my head due to its contagious chorus.   "I Would Run" is running through my mind as we speak!
One other aspect that really got my attention was the quality of Mat's voice.   You can tell right away that MB's chops are well-trained and well-versed to the point where you forget for a second that this is actually a newcomer to the scene.   Mat's refined voice and sharp singing already displays a professional touch.
Not just a fine singing voice but well-written material to boot is what makes this Matt Brandon such a force to be reckoned with.   Based on my experience of this new release 'I Would Run' I am definitely a fan and I am anxious to find out what comes next.   I'd say the timing is just right for a full-fledged album so run fast and bring it on Mat Brandon!   Sky's the limit for this NY native and if you have not heard of Mat Brandon yet then get ready because I have a funny feeling that he might become a household name before too long.   If I'm wrong then sue me but if I'm right then all I have to say is HA, told ya so!
http://facebook.com/iammatbrandon
By Jimmy Rae (jrae@skopemag.com)
[Rating: 4.5/5]