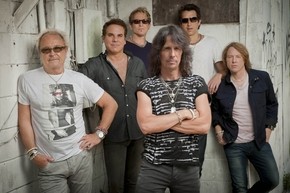 What better way to kick off the summer and Memorial Day weekend than with the timeless rock band Foreigner!   On Saturday, May 26 Hoosier Park Racing & Casino in Anderson, Indiana kicked off their second season with Summer Music Track II.   I couldn't have asked for a better act than the "Cold As Ice" rockers themselves and who doesn't love some classic Foreigner to set the mood just right!  
For anyone out there who may not be familiar with Foreigner and their nine Top 10 hits and 16 Top 30 hits, I'll hit you with some cool, hard facts!   The group was formed in 1976 by lead guitarist Mick Jones who has wrote or co-wrote every Foreigner song and has also produced or co-produced every record.   Jones is the only active, original member left on the band's roster but unfortunately he was not able to perform that night.   Even with no Mick Jones or original lead singer Lou Gramm, the Foreigner on stage at Hoosier Park Racing & Casino still rocked it hard and did not disappoint the Anderson crowd.   I have to say that I was highly impressed with the current singer Kelly Hansen who has an incredibly wide vocal range.   Of course Hansen has got some big shoes to fill by taking over for the one and only Lou Gramm but I would have to say that Kelly Hansen is pretty damn good in his own right—actually VERY damn good!   Kelly's singing ability and high energy definitely got my attention without a doubt.   He was hitting all the right notes, in my opinion, and during the show he even decided to climb the stage tower which I thought was quite ballsy, daring and cool as hell all in the same breath!   And come to find out that this gutsy stunt was not planned at all which makes the moment even better.   Now that is true rock 'n' roll my friends in its rawest form!   Kelly Hansen even decided to come out into the crowd as he and the rest of Foreigner really wanted to get the audience involved.   Foreigner put on one hell of a show & performance on May 26 and I'm so glad that my guests and I were able to experience it for ourselves.  
I own Foreigner's 'Complete Greatest Hits' and I am here to tell you that they played most of the songs off that album.   One chart topper after another we heard with classic numbers like: "Feels Like The First Time", "Cold As Ice", "Hot Blooded", "Double Vision", "Blue Morning, Blue Day", "Dirty White Boy", "Head Games", "Urgent", "Juke Box Hero", "Say You Will", "I Want To Know What Love Is" and "Waiting For A Girl Like You".   The fans were diggin' it, my guests and I were feelin' it and Foreigner, as a complete band, was definitely in the zone!   Perfect summer weather mixed with a classic rock band that never gets old = recipe for success!
With over 70 million albums sold worldwide and all the multi-platinum records, I love that Foreigner doesn't have anything else to prove yet they are still going strong to this day!   This is a band that definitely deserves to be in the Rock And Roll Hall of Fame, in my opinion, but don't get me started on that because that's a whole other can of worms!   Foreigner's latest album that was released last year fittingly titled 'Feels Like The First Time' features three discs.   One CD called "Acoustique" covers the classic Foreigner hits all unplugged, another disc is titled "Juke Box Heroes" with a new song "Save Me" that includes brand new digital recordings of their greatest hits and finally you'll enjoy a live DVD with Foreigner rockin' it in Chicago.   All I have left to say is keep being the best dirty white boys and juke box heroes that you can be Foreigner because honestly it "Feels Like The First Time" every time you guys perform!
The night ended with a bang by witnessing a grand fireworks display put on by Hoosier Park Racing & Casino.   I'd also like to add that the hospitality was once again top-notch as our guests and I always feel very welcome at Hoosier Park Racing & Casino in Anderson, Indiana.   For more info on both the venue and Foreigner SKOPE out: http://www.hoosierpark.com and http://www.foreigneronline.com.  
By Jimmy Rae – jrae@skopemag.com