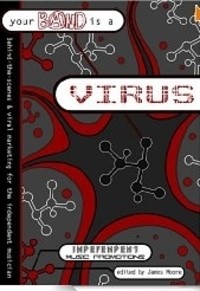 For the first time ever I am doing my first book review, so I am definitely excited right from the start!   James Moore is the author of "Your Band Is A Virus!" and he is an independent music promoter/CEO of Independent Music Promotions (www.independentmusicpromotions.com).   This book can help Indie artists & bands gain major exposure all on their own.   It's all about self-promotion according to Moore where Independent musicians can get the job done without the presence of big-shot managers and money-hungry, music moguls.
The meaning behind "Your Band Is A Virus!" is that any band or artist out there can spread their music like a virus if done right.   James Moore will provide you with all of the tools to help get your music out to the masses.   One can learn all about the following: Guerilla, viral and behind-the-scenes marketing, how to sell, branding, building a professional website and much, much more.   The beauty of this book is that Mr. Moore covers topics that will be hard to find anywhere else and also the style of writing is very easy to read and follow.   James lays it all out with no fancy gimmicks and proves that keeping it simple & concise is always better than complicated & complex.   Moore's book simplifies important matters that are crucial toward a successful run in the Indie music world.   "Your Band Is A Virus!" focuses mainly on a strong online presence because Moore feels that the Internet should be where all the magic starts for Independent artists & bands.
http://www.amazon.com/Your-Band-Virus-Behind-The-Scenes-ebook/dp/B003X956BI
The book was actually released in 2010 but James recently updated it in 2012 by adding some more high-quality content.   Moore even decided to include a bonus interview with a top-notch music producer Stuart Epps who has worked with Led Zeppelin, Elton John, Oasis & Twisted Sister among others.   The reading here is so very informative but the book is also a fun, entertaining read.
What I loved about "Your Band Is A Virus!" is that it is geared toward your undiscovered, talented Indie musicians who are ready to make some REAL noise in this competitive music business.   Mainstream, major-label artists have no reason to read this book but struggling artists who are looking for notoriety, recognition and respect then this book is definitely for you!   I also loved the fact that the book actually offered certain tips & strategies that I could even use and relate to as a staff writer & media sales account executive for a music magazine.   One thing I may have added would be a Success Story section perhaps where readers could see, first-hand, how a number of Independent musicians made it on their own.   Seeing is believing with real life stories and I think that could have been an incredibly smart 'n' powerful choice to add in.  
Overall, I am extremely impressed with James Moore's "Your Band Is A Virus!" and I would highly recommend this book.   You can look at this book as sort of a Self-Promotion for Dummies and if you're an Indie artist or band looking to make it then this book should be in your hands right now!   If followed properly as described by James Moore then one could potentially infect the world with his or her virus (music) in no time!   You can purchase the book right here if you like: http://www.yourbandisavirus.com because it's finally time to get noticed!
By Jimmy Rae (jrae@skopemag.com)
[Rating: 4.5/5]