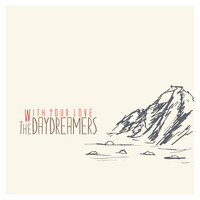 The Daydreamers put you in a trance with their latest release, "With Your Love".   This eclectic band stands out above your regular radio norms. They set new standards for refreshing and different. They have created a genre of music that should be labeled simply, "really good!"
There is a smooth groove that starts your body swaying back and forth.   As you submerge yourself in the haunting guitars, it sets the mood for the words to drop in your thoughts like a soft summer rain. My favorite song is, "Melissa". It makes me laugh right out loud. Lyrically it is comical with dark humor.   Then they go into, "Category VI" which quickly changed my mind, this song became my favorite instead. Lyrically it tells a story of leaning on our loved ones when we're trying to weather a storm. The words twist like a tornado creating new analogies as the music progresses.
The production of this body of work is spot on. Not over done or under done it is somewhere right in the middle. This band obviously had a clear vision about what they wanted to portray. This CD is simplicity at its finest.
The Daydreamers is a band that could not have picked a better name. The music is dreamy to say the least. They are edgy with whimsical phrasing giving them a sound unlike anyone else. It is not a rocker, but if you are looking for suave then look no further. I encourage you to go listen for yourself.   It's worth the time and effort and they will not disappoint.
https://www.facebook.com/thedaydreamersband
Rebecca Hosking – hoskingrebecca@gmail.com
[Rating: 5/5]