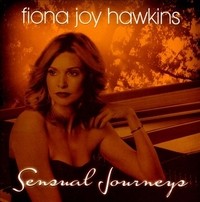 The first time I heard pianist/composer/vocalist Fiona Joy Hawkins was back in 2009 when I reviewed her album 'Blue Dream' (http://skopemag.com/2009/01/23/fiona-joy-hawkins-blue-dream).   Fiona's classy approach at the piano continues to stand out on this new release.   Hawkins plays with such elegance and her compositions hold much feeling.
Fiona says herself that "Sensual Journeys is dedicated to our Mothers past, present and our shared Mother…Earth".   So in a nutshell, 'Sensual Journeys' is all about hard-working moms everywhere and cherishing our planet & our home while embracing New Age music from a female's perspective.   The concept is quite strong but the material is actually quite delicate to the touch.
The title of the album is right on the money because all 11 tracks are so very sensual & peaceful.   The tone is very relaxing as you will feel like you're literally "Gliding on Air" all the way through.   All of the songs are extremely light 'n' airy and the arrangements were very nice. Additionally, the vocals & instrumentation were also very pleasant to the eardrums as Fiona included some special guests on the record.
All in all, I am incredibly impressed with Fiona Joy Hawkins and her talents as a pianist and composer.   Fiona is classy, elegant and tasteful all wrapped up into one and her music is a true testament to who she is as an artist.   'Sensual Journeys' is a powerful piece of work that deserves much praise & recognition and I highly recommend this album.
By Jimmy Rae (jrae@skopemag.com)
[Rating: 5/5]