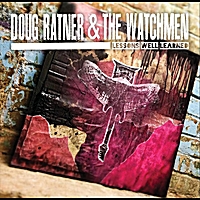 Doug Ratner and the Watchmen are making their presence known with their latest release, "Lessons Well Learned". It looks and sounds like they have learned their lessons quite well. This latest release is full of heavy hitting rockers that are sure to satisfy.
They open the CD with their critically acclaimed single, Bomb in the Backseat, which recently hit #2 on Amazon's hottest new releases in their classic rock charts. This band is breaking away from their New England folksy roots and decided to shake the rafters instead with their cover song of Pink Floyd's, Money. It is a nice rendition and a classic song to break out and make new again.
The lead singer owns the tunes and sings the songs like they are an extension of himself. The melodies are bouncy and unpredictable. They keep you engaged and eager to see what they are going to do next. They have edgy lyrics with what I call a, "thinking man's CD".
Doug Ratner and the Watchmen were born to be players and rock us to new heights. I know this because I have experienced it. "Lessons Well Learned" is schooling I'm willing to put my time into. You never know what realm they will take you to next. Right now, I'm quite happy in the world they have created thus far. Rock on!
By: Rebecca Hosking – hoskingrebecca@gmail.com
[Rating: 5/5]