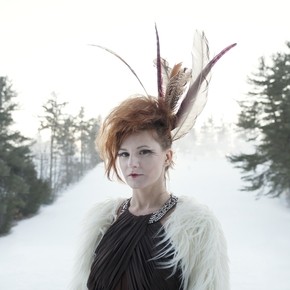 Inspired by wildness, fueled by instinct, Jenee Halstead's sophomore LP, Raised by Wolves is as much a departure in form for Halstead as it is a return to the energetic, carefree days of her wandering youth. Halstead and her producer Evan Brubaker create a unique dark pop/Americana on Wolves by combining old instruments with new techniques – rendering a dobro unrecognizable with a wah pedal, distorting banjos and adding electronic beats to acoustic tunes.
Approved MP3: "Raised By Wolves" From Raised By Wolves:
http://glgpub.com/_/audio/Jenee-Halstead-Raised-By-Wolves.mp3
The songs on the album are charged with life and passion, surely a result of Halstead changing both the perspective and instrument she used when writing.   "These songs were much more challenging physically and emotionally than my first two albums, and it pretty much stretched me in every way as a writer and singer," says Halstead, who wrote the songs on Raised by Wolves using ukulele and piano.   "I sang in area of my range that I hadn't really sung in since college and really wanted to explore more of the high soprano timbre of my voice that hadn't been used on my first two albums." Raised by Wolves is due out Aug. 13.
Photo by Caleb Cole