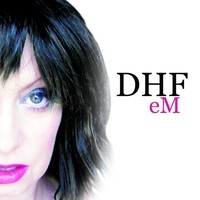 The first time I heard eM was when I reviewed just two tracks off of her second full-length album 'DHF' last year for Skope (http://skopemag.com/2011/10/20/em-dhf-teaser).   Now, I get to hear eight songs in full all mixed by Chicago native, Heath Karau.   The DJ mix breathes new life into 'DHF' and into the progressive dance scene.
'DHF' stands for deep, hard and fast and the three words that eM lives by are: "Inspiration.   Motivation.   Dedication."   This Melbourne, Australia-based singer/producer/songwriter originally from New Zealand gives to you what she likes to call a "journey".   Through a heavily artistic and creative vision, the 'Heath Karau Mix of DHF' is born.
[youtube Sf11UhkioZU nolink]
Right from the start on "Ready Now" eM is putting you in a trance through hypnotic dance grooves.   Flowing into the next number "Promise Me" one will experience hype beats to go along with a touching & sincere sentiment.   This song is extremely personal to eM because she actually sang this tune to her brother right before he died.   "Promise Me" is emotional and sad based on eM's unfortunate loss but the track also seems to serve as a positive outlet for eM.   The title track "DHF" has a spiritual vibe and on "Jump In The Daylight" the voice and overall sound will mysteriously draw listeners in.   "I Got Sumthin 4 U", which is one of my favs on the record, is such a hot mix that has got so much damn flavor and spice!   "You Don't Know" incorporates futuristic beats with a dark 'n' sinister tone coming   from eM.   I thought this was a tremendous pairing of elements by Heath Karau and eM on "You Don't Know" in what I think is a well-designed arrangement.   Something else that I noticed on this album were the smooth transitions between songs.   There was no hesitation at all as one track ended it would then go into the next installment with ease.   The whole process came across as very natural as each piece seemed to fit perfectly on this puzzle.   According to eM the music literally never dies; not even for a split second!
"Promise Me" MP3:
In the end, I would have to say that this eight-track recording offers up simple yet satisfying lyrics to go along with deep-minded, spacious music.   It's dance music with a cool bounce and a message that definitely comes across as DJ & club-friendly.   The only problem I find is the running time on each song, which I mentioned on the previous review.   To obtain radio airplay and commercial success I would highly recommend shaving off at least a couple minutes off of each track.   Other than that, I am impressed with this effort and what eM has created here.   I can tell that eM has a real knack for writing original material and I can also sense that eM has an ear for music.   EM proves to us that she is inventive, creative and musical in spirit on this recent release of 'DHF–Heath Karau Mix'.  
Just to let everyone know eM has some BIG-time collabos on the way and her websites have reached over 600 listeners!   It's also very interesting to know that 60% of eM's fans/listeners are not from Australia or New Zealand but actually right here in the United States.   Sales are up online and eM is on the up and up.   Be on the lookout for this emerging artist from down under as she attempts to take the music world by a deep, hard & fast storm!   I am providing links so that fans everywhere can listen to and download 'DHF–Heath Karau Mix' along with eM's other releases.   Enjoy!
http://soundcloud.com/em_melbourne/dhf-cd-heath-karau-mix
http://itunes.apple.com/au/artist/em/id384996080
http://www.trackitdown.net/artist/169445/em.html
http://www.junodownload.com/products/dhf/1912776-02/
By Jimmy Rae (jrae@skopemag.com)
[Rating: 3/5]