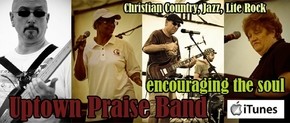 Christian light rock act Uptown Praise Band are bringing their brand of country and jazz-tinged devotional music far and wide, including the upcoming Cornerstone Festival at the Michigan Stage July 2 – 7, where their performance will be part of a collective aiming to benefit the Kids Feeding Kids Ministry. Festivals are nothing new for the Uptown Praise Band — they've already played Unity Music Festival and Big Ticket Festival.
Their songs have received extensive airplay within the Christian community and they've earned a reputation for warm, rock ballads and strong, soulful vocals. Mixing funk, blues, jazz, country and rock gives the band a forum with which to send their chosen message. This is a worship group who aren't afraid to turn up the amplifiers and dance. Chances are, if you keep your ear to the ground within the thriving Christian music scene, you'll hear the name Uptown Praise Band before long.
Welcome to SKOPE Magazine! So I understand that you're a church band and you lead your congregation in Grand Rapids, Michigan. How did this all develop beyond that? You've come a long way.
A few years ago, God kept tugging at me to take the team outside the four walls of our church. Of course He knew what I was capable of, if I put my mind to it.. laughs. I am doing really well financially in my career, so we took a leap of faith and invested in doing our first album in Nashville. Next thing we knew we were landing some pretty cool large Christian festival gigs in Michigan and Illinois.
Your album "Testimonials" is available and doing well. Tell us about the recording and writing process.
I had all the songs already written and arranged and we were playing them at our church from time to time.   We did four tracks with help of Eric Copeland and Creative Soul Records of Nashville, TN and the others with Stuart Poltrock and his team at SoundPost USA in Grand Rapids, MI. Roy Wallace did the audio engineering, mixing and mastering and also played drums on two of the tracks.   Joyce did all the vocal tracks – both lead and background vocals. Eric hired Nashville session players for the four Nashville produced songs, His Name is Jesus, We Love You, Thirteen and I am Healed Now.
Is it a challenge to be in a group with so many people, or is it easy when you're all focused on the same goal?
No question, it is a challenge with an all-volunteer church group. We separate the church band volunteers from the outside band activities. Three of us as worship leaders play both in church and outside activities. Sometimes background singers from church sing with us outside for example. Also we have recently started playing as three piece once in a while, Joyce on lead, my on guitar (running computer driven drums, bass and loops), and Rebecca on Keys. This has made it really easy for us to do shows at other churches and events like Six Flags Chicago Aug 25th.
What about Christianity first appealed to you and how has it's philosophies affected your life?
Wow, that is big question. My faith in Jesus and the His teachings saved my marriage about 15 years ago. I have seen the power of Christianity make a life changing impact over and over again on people who struggle with addictions, depression and relationship issues for example. The impact we can have by sharing our music and testimonies is why we do what we do. It certainly isn't for the money, because very few bands can earn a living in the Music industry anymore. Hopefully our Testimonials album does exactly that.
How has the Christian community responded to your music? You've played some major Christian festivals and charted on radio.
Yes, we got to play at The Christian Music Awards in Nashville, TN as Best of the Blessed finalist. Also Unity Music Festival in Muskegon, MI and more recently main worship stage at Big Ticket Festival held last year in Ionia, MI. Toby Mac, Newsboys and Skillet. I think the Festival organizers like our message and what we are about. We have had some success with both Country and Christian radio. One of our songs "I Am Healed Now" was syndicated to over 400 country radio stations by DJ Dixie McCorkel.
[youtube xb7apW3DKwE nolink]
Who are some of your main musical inspirations?
My own personal influences date back to Carlos Santana, Eric Clapton and BB King. I gave up music all together for about 10 years while my children were young. Most of the songs are being inspired by the presence of God that fills our church every Sunday morning at Uptown Assembly of God in Grand Rapids Michigan.   Uptown is a small inner city full gospel church lead by Sr. Pastor Bill Trim.   Joyce and Rebecca have been singing and playing in church all their lives. Our first album ended up being a mix of Country, Jazz and Lite Rock. God had to be involved! We still don't fully comprehend what happened.
Please tell us about your label SpiritFilled Productions. Is it more beneficial to run your own label than to sign on to an already established one?
Another big question, laughs. Well I have strong business skills and the music industry is going through a massive change in business model. So it just makes more sense to remain independent. We do everything over the internet, all digital distribution iTunes, Amazon and others, marketing, booking and promotion all via the internet. Certainly we are open to licensing and publishing deals of our songs to Christian TV, Movies and publishing partners and I have setup SpiritFilled Productions as an ASCAP and SOUNDEXCHANGE registered entity for that purpose. We are also using it to produce and host our own events with other bands and promoters.
Do you plan to appear at more festivals in 2012?
We have a full spring/summer/fall schedule already check our website at www.uptownpraiseband.com. Our next big festival appearance is at Cornerstone Festival. We are hosting what we call The Michigan Stage, July 2-7, Bushnell, IL. We are bringing 50+ bands from across the country under a 30 x 60' tent for five days! We are going to pack rice and beans for starving children of the Dominican Republic via Kids feeding Kids Ministry a 501c non-profit. The Cornerstone Festival is a faith-based event that typically draws over 20,000 people to a 600 acre farm located near Peoria IL. This is an established held every year and was founded by the Jesus People organization from Chicago, IL http://www.cornerstonefestival.com
What's next for Uptown Praise Band?
We want to get back in the studio to record our next album.   I have the title already — "Offering". We have over fifteen new original songs that we are our playing live now and can't wait to see what God does with them in the studio.
By James @ james@independentmusicpromotions.com